Lessons from the Pasture [Read This Free]
After a Crippling Loss, Thousands Are Lifted from the Ground
By George Hage
Photos Courtesy of George Hage
With evening chores completed I sat in our Boise backyard pasture, gently calling the lambs by name, trying to hold back my emotions. I found myself frequently glancing up at the second floor window, where the shadows swayed back and forth intensely on the ceiling. I had heard that Martie liked to rock as a toddler, but now, at thirty-five, the lamp beside her rocker exposed her growing nightmare and the passion of her prayers. How could this be happening? Only two years earlier, our twins Michael and Sarah had just turned four when Martie, who had never smoked, was diagnosed with an advanced stage of lung cancer. After surgery to remove part of a lung and eight months of chemotherapy and radiation, she had only about fourteen months before it all came back.
She had grown up on a farm outside Kuna, had always loved animals, and now decided we should raise lambs. I restored the pasture, built a shelter, bought grain, and we welcomed the lambs, carving their names above the entryway. They brought joy to the whole family, and the kids loved to run with them. That initial month, when the lambs were away from their mother for the first time, we spent many evenings in the shelter, calming them with sympathetic voices. During the day, we fed them out of our hands and watched them prance in delight. When the neighborhood dogs barked, we reassured them with our presence, letting them know they were safe. We took great pleasure in tending our lambs.
When the biopsy came back positive and the cancer returned with fury, life became very difficult. How do you fight a battle for life when drained of physical and emotional strength? I sat in the pasture evening after evening, calling the lambs and watching the shadows on the ceiling. The constant motion of those shadows spoke to me of hope and despair, strength and fragility, faith and fear. It was if I were watching a battlefield on the ceiling. I admired her fight and loved her all the more.
The pasture became an escape for me at the end of the day, after work, after taking care of the kids, after spending time with Martie. In the pasture, I was free to speak my thoughts, my fears, my disappointments, my hopes. The lambs heard every word but paid no attention. I believed God heard every word. I just hoped He was listening. Then one evening I was given a gift. One of the lambs answered my call. She leaned against my knees and I put my arms around her and rubbed her side and the top of her head. She stayed as if to comfort me that evening, and then again, and again.
Over the next couple of weeks, Martie's cancer progressed rapidly and it became obvious we were losing the fight, but this was beyond my comprehension, right up until the evening of her final breath. That night, the twins slept in bed with me. It was a long night and the beginning of a few long years.
The pasture was no longer my refuge. I didn't have the energy to take care of the sheep and there were no more shadows on the ceiling. I returned the lambs to their previous owner and took three weeks off from work. I'd always loved my job, as an occupational therapist at the Idaho Elks Rehab Hospital, but it was hard to face people again, to focus on treatment plans, documentation, and other people's challenges.
My children became my whole life. I coached Michael's baseball teams and attended Sarah's Camp Fire Girls' activities. I learned to cook but wasn't very good. I felt protective of the kids, their emotions and how they responded to such a great loss at such a young age. We talked about many things and I struggled with questions that were too big to answer. I knew my life had to be simple at this stage, and found myself being drawn back to the pasture and the imagery of the shepherd and the sheep. A friend recommended a book written by a shepherd about his relationship with his sheep. I realized I was in shepherd mode with my kids, wanting to protect, guide, nourish, and comfort them. I also knew that's what I needed for myself. Over time, I began to heal and to grow in unanticipated ways.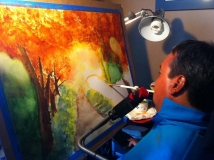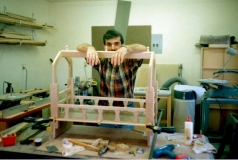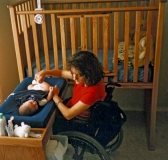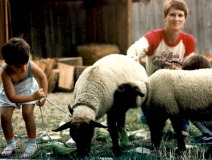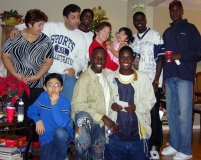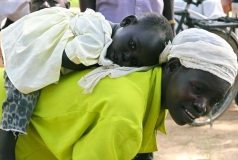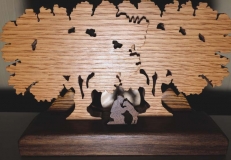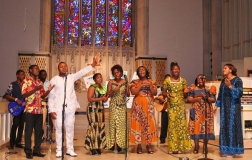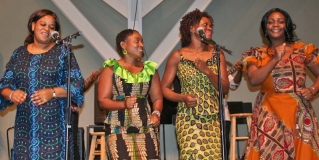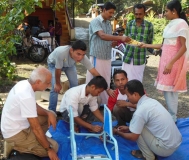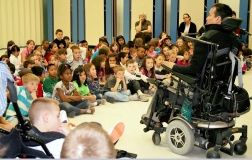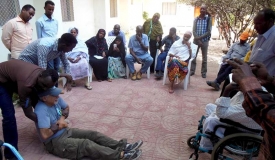 A year after Martie passed away, I had a woodshop built in the back yard. I cut my hours at work to be home when the kids got back from school, as they were starting first grade. I went back to the owners of the sheep and took pictures in the pasture. With those images and a band saw, scroll saw, and sanders, I tried to create depictions in wood of the comfort and encouragement that I finally began to realize. At craft shows and Christmas shows, people who were drawn to my booth over the next few years often shared stories of various kinds of pain, including divorce, disability, addictions, disappointments, and mental health issues. This helped me to see beyond myself and gave a deeper bond with others who were acquainted with struggle and disappointment.
My love for woodworking had begun in 1976, when I started working at the hospital. The department had a large woodshop, where we designed and built adaptive equipment for patients with disabilities. Over the years I built custom tables and desks, makeup trays, computer and kitchen adaptations, and many other special designs. My favorite design was a crib and changing table for a young woman who broke her neck in a car accident. She called me a month before her adopted baby was to arrive and we planned out a crib and changing table with clearance underneath for her wheelchair, with a gate that opened like cupboard doors and modifications for limited hand function. It worked well, and she raised three children with her crib. The year after I made the crib, I was contacted by the University of Idaho to build seven more, funded by a grant to help disabled parents around the state. I loved designing and fabricating adaptive equipment, but most of all I loved my "one-on-one" time with patients, listening to their stories and encouraging them through the difficulties of their lives.
A little over two years after Martie's death, I was making my own positive steps into a "new normal" life but still struggled with depression, loneliness, and my naturally introverted personality. My life revolved around work, kids, the woodshop, friends, and church. My best friend, Steve, introduced me to a woman name Renee, who had a daughter, Megan, the same age as Michael and Sarah. We gradually got to know them in social gatherings. as we shared the same friends. Renee was a very strong woman and amazingly patient. We had many talks while the kids had play dates, and I became aware of the baggage I carried, including guilt over the thought of considering someone else as a partner, and my loneliness, depression, fear, and confusion. We became good friends way before I realized we were actually dating. One evening in 1992, while the five of us were at the Boise River Festival, I reached out and put my hand on her knee. We both knew it was intentional and it marked a change in our relationship. About two-and-a-half years after we met, we were married, almost five years after Martie's death. It wasn't easy being a blended family, but it was good, and so worth it.
One evening when I was visiting my brother in Chicago, I got a phone call from Renee that would change our lives. She had received a call from a refugee agency in Boise called World Relief, asking if we would host a family from Bosnia who were arriving the very next day. They didn't speak English and had been living in a refugee camp. When I got home two days later, they already were living with us.
Renee and I were drawn to their stories and to their pain. They stayed with us five weeks, making our home quite cozy but adding a new adventure. After they moved into their own apartment, Renee remained so touched by their journey that she became a volunteer with World Relief. She later was employed as a case manager, and then office director. Years later, she was promoted to regional manager of the western states and now is divisional director, managing offices all over the US. Throughout the last twenty-two years, refugees from many nations have lived with us, including Iran, Cuba, Bosnia, Sudan, Liberia, DRC, and Eritrea. Some stayed for a few weeks, others for up to a year. Our world had grown much bigger. For many years, birthdays, holidays, and other gatherings included not only our own family but new friends from numerous countries, among them Vietnam, Sierra Leone, Kurdistan, Iraq, and Somalia. I've enjoyed time in the woodshop with men from various countries, teaching the use of power tools, making cribs unique to their cultures, hot dog carts for vendors, and many other projects, during which language was never a barrier. The more stories I heard, the more the desire developed in me to go to Africa and work with people with disabilities.
I envisioned building adaptive equipment that possibly could change some lives in Africa, but didn't know where to begin. Then I heard of the Free Wheelchair Mission (FWM) through a colleague of Renee's at World Relief. For a time WR partnered with FWM to bring wheelchairs to the countries of Sierra Leone and Zambia. I was intrigued by the struggles of a group of people I knew nothing about: seventy million people living in Third World poverty whose only mode of transportation was crawling or being carried. What must their lives be like? I intended to find out. I ordered a wheelchair and video and displayed them at our annual Idaho Occupational Therapy Association conference at St Luke's Hospital in 2004.
Hernan Reyes, a former patient and very close friend of mine from Caldwell, had an art display at the conference. Hernan broke his neck in a car accident in 1992 and is paralyzed from the neck down. He has an amazing talent of painting with a paint brush in his mouth and has the gift of encouragement. Hernan is the most inspirational person I've ever known. I spoke with him about FWM, showed him the wheelchair and video, and he was moved. He committed to paint a picture for FWM. That same day, I gave my first presentation at a church called New Heart Christian Ministries, which was made up of Idaho refugees and immigrants from Africa and Haiti. After my presentation, the pastor, Donald Batubenga, told his congregation, "We won't forget the nations we came from."
They reached deep into their pockets and paid for the first four wheelchairs donated by Idahoans. That day a special team was born between Hernan, Pastor Donald and his congregation, and myself. We call ourselves "Idaho Believes." Hernan went on to create three gorgeous paintings and the Elks and St. Luke's rehab hospitals made a thousand prints of each to give to donors who purchased wheelchairs. The church grew much larger, as refugees and immigrants continued to arrive in Idaho, and they developed an African-style worship team that opened doors for me to make presentations in many Idaho churches. Renee and I, along with several others, went to Uganda in 2006 and 2007 to take photos and make videos of hundreds of people crawling and then being lifted into their new wheelchairs.
We participated in thirteen wheelchair distributions in the Uganda bush, and what we learned was overwhelming. For example, in countries like Uganda, pregnant disabled women crawl throughout their pregnancies. We met mothers who had crawled through five or six pregnancies, some with twins. When the babies are born, the mothers crawl with their infants wrapped onto their backs. Such women don't get to wear the beautiful dresses that other women wear in African countries, because they would become soiled and torn. They crawl in pants or shorts, their knees calloused and bodies filthy, and they often become social outcasts. Disabled men are rarely able to find work or provide for their families. We saw several people given wheelchairs after crawling for more than fifty years. When disabled children grow up and become too heavy or awkward for their mother to carry, they often spend most of their lives indoors, on the floor, isolated and excluded. People with disabilities in developing countries are often told they are cursed by God, a burden on society and on their families.
After my trips to Uganda, I made five more excursions, to Mexico, India, Zambia, Rwanda, and Somalia. By then, I was a FWM trainer, teaching our nonprofit partners about disability, preventing pressure sores, transfer of patients to the wheelchairs, assembly and fitting. Hernan had become a wonderful speaker and advocate for the disabled, speaking in Idaho schools and churches. I shared his story and paintings in every country I visited, and he became an inspiration to many around the world. The New Heart's church also has been faithful to its promise to not forget the countries its congregation came from.
The founder of FWM and a good friend, Don Schoendorfer, has traveled from California on numerous occasions to help us with presentations in Idaho. Our current goal is to raise 36,387 people off the ground: that's one wheelchair for every seat in Boise State's Albertsons Stadium. Already, the people of Idaho have generously lifted more than twenty thousand suffering people off the ground, affirming our belief that "No One Should Have To Crawl."
This has been a special year for me. I turned sixty-five, Renee and I have been happily married for twenty-five years, and I retired from the rehab hospital after forty-one years. It's been a year of reflection, bringing me back to the pasture where I experienced my own deep pain. During my season in the pasture, I never believed my life could be full again, but thanks to lessons that began there, I developed a greater awareness of those suffering all around me, and have found a deeper purpose and passion for life.