Mad Cow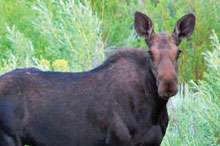 Never Approach, Always Yield
By Ken Carpenter with Karen Sue Kight
One gray, winter morning about fifteen years ago on the eastern slope of Mount Idaho, where the frozen face of Buffalo Hump rises out of the crisscrossed ridges of the Nez Perce–Clearwater National Forests in the distance, I headed to the barn as usual to do the chores.
As I stepped out the back door, my yellow Labrador stretched and yawned, his big tail pounding the porch. Kingsley takes the night watch, during which he's tasked with keeping the deer out of the orchard and the wood rats out of the garden house. From his observation post on the railing, Yellow Tomcat squinted in the porchlight . . . official guardian of the secrets of the nightwatch.
Departing the garage, the three of us trekked through the day-old snow to the barn, where I went inside to feed the animals. When I came outside again, the day had brightened and I noticed Kingsley intently sniffing his way down the lane. Curious to see what he was tracking, I headed down the lane to look. That's when I noticed the trail of large, cloven hoofprints in the snow coming back up the lane.