Before the Fourth [free story]
We Beat the City to It
By Diana Braskich
This story is offered free in its entirety for the first part of July.
When I was in elementary school, the Fourth of July was one of my favorite holidays. As long as I can remember, my hometown of Coeur d'Alene has held events to honor our nation's founding, and my parents could always be counted on to attend.
But our family's celebration always started in the days before the city's, when my sister and I would accompany my parents to purchase our fireworks, a seemingly endless cache of street-legal pyrotechnics. This was a thrill for me, as I would marvel over the rows upon rows of once-a-year delights, an impressively large and diverse collection compiled by my dad. Each year, we bought an assortment fit for a king—cost was of no importance when it came to the Fourth.
On the evening before the big day, my dad would put on a fireworks show for the entire neighborhood. Almost everyone would come, hauling lawn chairs, blankets, and endless exotic treats to grace the snack table set up in our garage. Our stash of munitions, already outsized, would expand, as fathers throughout the neighborhood tried to one-up each other in fireworks prowess. Inevitably, the occasional bottle rocket or other forbidden fruit would find its way into the mix, and wind up terrifying the mothers and delighting the kids when it crashed-landed on a neighbor's roof or plunged into a backyard swimming pool (I guess I should say don't try this at home).
The show would start early, before dark, with my friends and I lighting sparklers and black snakes, dropping sparks on our exposed toes and smudging our fingers with soot. As dusk approached, parents and older brothers would start to arrive, and my friends and I would line up along the curb, a spot of honor, as it was right behind the launch area. My mother would be tasked with restraining our dog, who was intent on destroying this unknowable threat through constant shrill barks and dangerous and unpredictable lunges toward the street.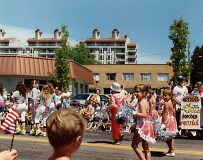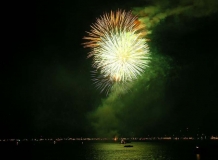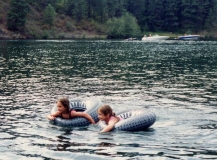 Sometimes my dad lit the fuses alone, sometimes other dads pitched in. Occasionally an older kid would be allowed to try his or her hand, and learn through the pain of singed fingers that this was no time to dilly-dally. A ground flower once scurried its way directly under a car parked in an ill-advised location, but no one ever got hurt.
The snack table was never supervised, so all the neighborhood girls would be whacked out on sugar in no time, spilling sodas all over ourselves and giggling like maniacs. My dad would exhaust the less impressive devices first, and by the time we reached the biggest and baddest displays, it would be fully dark. It was always a ruckus, with cheers and applause and the occasional ear-splitting whistle.
We cleaned up as a neighborhood, the parents attending to the furniture and food while my friends and I swept up the street. The chores were no cause to complain, as we would sort through the ashen remains and exclaim over the utter destruction wrought by our fathers' hands.
The morning of the Fourth, we'd head downtown extra early for the parade. I was more often in the parade than a spectator, as my dance studio was an annual participant. When I remember the parades of my childhood, I see the crowds, not the parade itself. The first year I danced down Sherman Avenue I was six or seven years old, strutting perpetually forward, hamming it up for the crowd, and perpetually afraid of being run down by the float or car behind us should I lag behind.
In the afternoon, we would take our boat out on Lake Coeur d'Alene. My sister and I would sit at the very front, stylish shades protecting our faces from the wind, holding on for dear life as my dad rocketed over every wave that came our way, nearly bouncing us out of our seats.
We'd settle down in one of our favorite bays, usually Mika or Beauty, and swim or float the afternoon away. We'd eat a picnic dinner and fight over whether the watermelon had been divided equitably. Sometimes we'd play cards and listen to my father's collection of Eighties pop music staples. When it started to get dark, we'd change into sweatpants and jackets, and settle down to watch the show.
Dad would always try to find the radio station that played the accompanying orchestration, but would only remember the frequency about fifty percent of the time. (Fortunately, we'd inevitably be near a family that was a little more on top of things). As we'd wait for the show to start, I'd become aware for the first time of how the lake had filled up around us, with boats on all sides, much closer than they'd be under normal circumstances. I'd see the green and red navigation lights and feel like part of something much larger than myself. (I did not know the word "community" then, but it's what I was feeling.)
For me, these fireworks were the polar opposite of the neighborhood celebration the night before: a solemn and magnificent experience, to be watched in silence, unblinking and still. It always fascinated me to see the night sky lit up, both brighter and louder than the multitude beneath it, all of humanity humbled by its beauty. Towards the end, my mom and I would whisper to each other, always trying to guess the timing of the grand finale. But each impressive collage of color was followed by another ever-grander, and then another. When the end finally arrived, we'd always feel foolish, because nothing that came before could compare to the rapid and enormous display that capped off the performance.
When the last firework faded from the sky, there would always be a moment of utter silence, broken after a long pause by one brave citizen's hesitant shout. Then the crowd around us would all join in, a cacophony of horns and yells, my father deafening everyone in the vicinity with his whistle.
The ride home was always a bit of a letdown. When the sky turned dark and the crowd fell silent, suddenly the cold would settle into your bones, and you'd realize how weary you were after such a full day. Boats that had arrived individually over the course of the day would turn back to shore as our brief camaraderie broke, the families around us no longer united in celebration, but now obstacles to be overcome and avoided on the journey home.