Mars on Earth [Read This Free]
Otherworldly Science in Idaho
By Faith Rudebusch
This feature is presented free in December.
When I first explored Craters of the Moon National Monument, tagging along on a friend's botany research trip in 2008, I marveled at the impossible terrain, which seemed as alien as Mars. Ancient lava flows unfurled as far as we could see, rippling in smooth concentric circles or breaking into craggy rifts. What should have been a mile, according to the map, stretched for hours as we carefully balanced on jagged ridges, detouring around crevices a little too wide to jump across and deep enough to swallow us whole.
I'm not the first to identify the otherworldliness of this aptly-named monument. Apollo 14 astronauts studied its geology in 1969 prior to collecting rocks from the Moon. But these basaltic rocks are a closer match to Mars than to our own moon, and they've been extensively studied to further our understanding of the Red Planet. Now, NASA's goal is to send humans to Mars by the 2030s, and this bizarre landscape has become the organization's training grounds.
I was fascinated to learn about the work of one multidisciplinary team that simulated a mission to Mars here during the summers of 2015 and 2016. For this project, called BASALT (Biologic Analog Simulation Associated with Lava Terrains), pairs of researchers standing in for astronauts, complete with high-tech backpacks and cutting-edge gear, ventured onto the lava flows on foot. They collected data and rocks, searching for conditions that could grow microbial life. Other project members supported the astronauts from inside a mission control center that in a real expedition would be on Mars, while a science team advised the proceedings from Earth (the nearby town of Arco).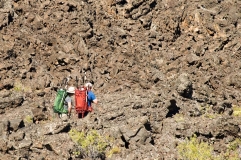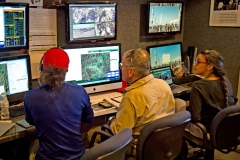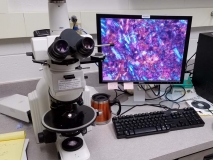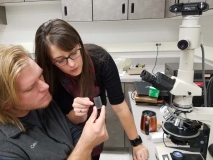 I met with the project's deputy principal investigator, Dr. Shannon Kobs Nawatniak, in her office at Idaho State University, where she is an assistant professor of geology. She was exuberant and welcoming, even though she had just come from teaching her last class for the day and it now was after five-thirty.
She told me the project had two branches: science and exploration. For the science branch, the team looked for places where microscopic life could eke out an existence, using the same scientific procedures that might one day be used on Mars. They searched for what she called microbial habitat. "Where do these critters like to live? Where should we look for them on Earth, which translates to where should we look for them on Mars, either as still-living or extinct organisms?" The team sought a class of microbes called endolithic microbes that live inside rocks, getting their energy and nutrients from the rock itself. Shannon was doubtful that these microbes are currently residing on Mars, but she suspected that they may have lived there long ago, when Mars was a much wetter planet.
The second branch of the BASALT project was about much more than, "Can your rocket ship get there?" Shannon explained. The exploration included learning how to communicate between planets, because astronauts on Mars will need input from scientists on Earth to decide which rocks to collect. These rocks will be studied internationally for years to come, improving our understanding of the solar system.
"First rock they pick up, that's amazing, we have a rock from Mars," she said. "The second rock they pick up, who cares, is it different from the first one? And so it becomes more and more important that we actually do targeted and intelligent work, so we can maximize the benefit that we get from the science of a crewed mission to Mars."
Earth and Mars are so far apart that messages take anywhere from five to fifteen minutes to travel between them, limited by the speed of light. Accordingly, the BASALT project delayed communications between the team's simulated Mars and Earth. Shannon admitted it was frustrating to deal with these time delays. "We hated it." The team quickly realized that texting was more efficient and less distracting than voice messages, which arrived at seemingly random intervals.
This part of the research surprised me, because I had assumed a crew on Mars would have to be self-sufficient, carrying out the science without much input from Earth. But Shannon said group dynamics between the different "planets" were important, and they presented problems.
"At first we lacked empathy across that space barrier," she explained. "In some of our initial days, [we experienced] a lot of frustration, a lot of irritation, a lot of misunderstandings."
Such problems could potentially multiply and sabotage a mission that was dependent on a small, isolated group of people in outer space. The group experimented with solutions. During their second deployment, team leaders rotated through each of the three different locations: on foot in the lava flows, inside the Mars mission command center, and inside the science center on Earth. Shannon told me this helped to develop "a shared language, better communication, empathy, and better understanding of what jobs actually are and what struggles [are associated with them]." She and her colleagues will recommend this step in future astronaut training, to ensure cohesion between the entire team.
"But couldn't these kinds of challenges be worked out anywhere?" I wondered. "What, other than its alien feel, makes Craters of the Moon a good location for a practice trip to Mars?" It turns out that this national monument is a remarkably good match with Mars in its geochemical similarities, dry climate, and lack of active volcanism. Combined with its accessibility and relatively young (fifteen thousand years) and unweathered basaltic rocks, Craters of the Moon is an ideal place to practice the real science planned for Mars.
"As somebody who specializes in volcanoes, there's basically nowhere better to be than right here in Idaho," Shannon said of Craters and her home in Pocatello. "It's really cool that right here at ISU we're a part of this mission, and we're helping create critical information that's needed to be able to launch these crewed missions to Mars."
There was one question I had to ask about this project: why no space suits? I had pictured people in full space suits wandering around Craters of the Moon, yet the astronauts in this simulation wore regular clothes. The professor explained that this was in part because space suits weigh one hundred to two hundred pounds, a weight that is more manageable on Mars, where the gravity is around thirty percent of what we experience on Earth.
Even so, the suits will pose problems on Mars, she said. They prevent quick movements and hamper astronauts' fine motor control, while low gravity will make it hard to achieve the force needed to break rocks. This means the rock hammer, the traditional tool of geologists, will be unusable. Recognizing that some challenges were outside the scope of the BASALT mission, the members created lists of tools needed in space, including potentially new technology, such as specialized jackhammers or small drills to do field geology in low-gravity environments.
Shannon led me down a flight of stairs to an orderly lab that held a row of microscopes. She selected a slide, explaining that it contained a piece of rock sliced thinner than a sheet of paper. When placed in a petrographic microscope, the rock slice came alive with colors that tell geologists what minerals it contains.
Graduate student Chris Borg, who has been with the BASALT project almost from the beginning, demonstrated how he can move the slide along a grid to observe thousands of points on each slide. He said he'd rather be outside doing fieldwork, but his hours at the microscope are "a necessary evil," because the tedious process makes it possible to statistically analyze samples, turning them into meaningful data.
We descended another flight of stairs to a second geology lab, where a sledgehammer rested on a steel plate, surrounded by a shield to collect stray rock dust. Here, students crushed rocks, meticulously cleaning all the equipment with ethanol between samples to avoid contamination. They placed the rock fragments among several heavy, concentric metal circles to grind them into a fine powder in preparation for chemical analysis.
The specialized equipment, long hours, and high-tech gear used in the field led us to the topic of costs and financing. Shannon acknowledged that funding even basic research into communications technology like this could be controversial. "Obviously, we have many issues that we'd like to be able to deal with on Earth as well, so many things that we don't have solved, so many problems. So why should we invest money in something like this?"
A fair point, I thought. But she justified the expense: "Investment into NASA projects has a significant positive return-on-investment to the rest of the economy." She described how technology originally designed for the Apollo missions is now used for all kinds of everyday purposes, and the money coming from this NASA-funded project is being spent in Idaho. It funds students, who pay tuition and living expenses in Pocatello, equipment is bought from local vendors, and an international team of scientists spends three weeks in Arco, "taking over all the hotel rooms and all the restaurants, eating all the food in the town."
So what's next for BASALT? The team is far from done. Even as it prepares to publish the project's results in Astrobiology, lists of new questions are being assembled for BASALT 2.0—"the bigger questions," Shannon said, "on the science and exploration sides."
Her enthusiasm was contagious. I can't wait to get back to Craters of the Moon. After learning about this project, I'm eager to revisit the closest thing Idaho has to Mars.