My Own Private Movie Set [Read This Free]
The Ghost Town a Mile from Home
Story and Photos by Ernest J. Lombard
This story is offered free in its entirety for the first part of October.
The author, a retired architect and Fellow of the American Institute of Architects (FAIA), was raised on a ranch in Bonneville County and has had a lifelong fascination with Idaho's ghost towns, many of which he has explored and photographed on motorcycle trips through the years. In the following excerpt, used with permission, from his new book, Life-A-Tecture: Build an Experience-Driven Life, he describes youthful experiences in the ghost town of Herman and elsewhere.
Near the homestead was the old ghost town of Herman. As a young boy, I could walk one mile to explore an adventure-filled ghost town.
After doing that many times, I wanted to find other old cabins and town sites related to early-day mining activities that were just a farther walk from the house. This need to explore sites farther and farther from home is still with me in adulthood. Now, when I explore "new ghost towns" (at least new to me), I feel I am reliving the best moments of my childhood.
One of the employees who worked for my dad on the ranch was a carpenter who got architectural magazines in the mail. I loved to look at those magazines. They sparked my curiosity for buildings. He was a very skilled woodworker and carpenter. He did not have much opportunity to showcase his real skills. My mother used to say that he could build anything if you gave him enough time. When you are herding sheep, you have a lot of time to think about things to build and to do. Sheepherding is not a physically taxing endeavor, it is more of a mental exercise to stay alert and vigilant. Some people do not take advantage of the time to self-educate and others do. You have a lot of time to read and think. It is a shame we did not have computers and the Internet back then.
In the summer, when you do not have to trail the sheep or manage the birthing season, you do have time to think, reflect, and explore ideas. On a ranch, when you are old enough to have chores but too young to be full-time employed, you do have some time to yourself. Your parents are busy working and are not there to entertain you, so you have some extra time to spend doing things kids like to do. In my case, I liked to go out and explore. It was my main activity: whether it was a walk in the forest or a walk in the past to explore history, the ghost towns were an attraction. It was like having my own props and movie set to walk to and explore. When my younger brother joined me, we let our minds explore too, and created adventures in the ghost town setting.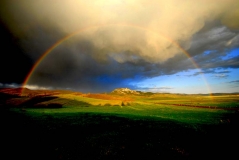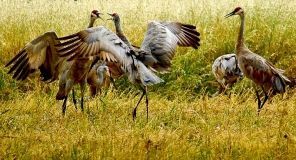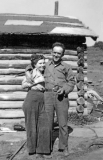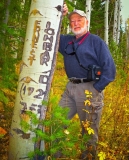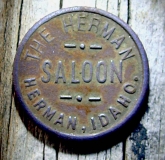 ****
Herman, a town that pre-dates Idaho statehood—from the 1880s to about 1900—was an agricultural and ranching town at a major road junction for supplying the gold mines on Caribou Mountain. In its heyday, Herman supported several thousand miners scattered about the mountains, and bragged of having a hotel, two saloons, and a mercantile. Miners could buy agricultural goods, get mail delivered, and get a drink at a saloon. For ranchers and farmers, it was a way to supply the mining operations with food.
A sporting goods store, dry goods store, grocery, and post office were all housed in one building. Other buildings included a saloon, hotel, and a livery stable. No one seemed to have lived in the town—there were no houses. Some folks may have lived at the hotel. The people who ran the store lived on a nearby ranch. In fact, Herman Wakeman was the store owner, the first postmaster, and the namesake for the town. Local historians think he was a Norwegian immigrant.
Exploring Herman was a weekly adventure. Sometimes my brother would join the trek. Other times, I would just wander around by myself. Sometimes my folks would not see me for a whole day. My folks trusted that I would take care of myself. One day's adventure began like any other day, when my brother and I decided to walk to Herman. We would often start at the saloon, just for fun. The hotel was a modern-day city block away, off by itself on the crest of a hill. We would always leave the hotel for last and explore the rest of the buildings first. On this particular day, like most others, we were not having any real exciting experiences except for the ones created by our imaginations.
Finally, we entered the first floor of the two-story hotel as usual. But today, as we stood in the doorway of the hotel, we heard ungodly, guttural sounds, banging of walls, and strange utterances coming from bedrooms on the second floor that were obviously from something alive or undead— sounds we had never heard before.
We were out of there. We were not about to go up to investigate. We ran all the way home. Breathless after the long run, we were so excited and full of imagination that we were hardly able to talk, let alone describe what had happened. We could not convince anyone at home to come back with us to investigate what we had encountered. In fact, we were told, "If you kids cannot come back without these wild stories, you cannot go exploring in Herman anymore." And we were okay with that, because we were not going back unless someone else came with us.
Three or four days went by. One day, we heard our neighbor from a ranch on the other side of Herman out in the yard talking to Dad, saying, "Gee, I cannot figure out what has happened to my pig." I thought, "What?" We did not know anyone in the valley had a pig. We were not raising pigs, so we did not know anything about pigs. But it occurred to me that the noises we had heard could have been made by his pig.
So I went out into the yard to say, "Maybe I know where your pig is." The neighbor was anxious to check it out. With an adult at the ready, we went with him to see what indeed had made the sounds. The neighbor opened the downstairs building door, and there was total silence. We walked up the stairs, still no sounds. We looked room by room until we got to a door that would not open. It was blocked by a very dead, very large, smelly, rotting pig.
In hindsight, the pig must have been stuck in the building when it heard us talking, days earlier. The pig's antics, heavy breathing, snorting, and banging must have been its cry of, "Help me," and "Free me." It was just the worst Halloween scenario. I was only eleven or twelve years old, but I think even an adult would have been unnerved by the sounds we heard. There was nothing to be done but leave the dead pig there. Our grand hotel for adventure and play smelled of rotting pig flesh for years after that. Our favored last stop of a day at Herman was ruined almost forever. Even after the pig's flesh was completely gone, the floor remained stained by the decomposed body. Once the pig had died, it was a contaminated place to us. We did not go there much anymore.
****
My early explorations of Herman led to continued curiosity about other ghost towns. My brother and I trekked to Caribou City, which was already a ghost town by the time we lived in the area. Caribou City was an all-day trek that we had to talk our parents into. They were game to go to Caribou City as a family about once a year. You could really only get there with a high-clearance pickup truck, and only during the summer. Today, in the twenty-first century, the skeletons of the town have been so picked apart that the only visible remains are from mining—the gravel and placer piles. The hillsides were created by the placer mining and the deforested mountainsides that had been cleared so a town site could exist. There were a lot of scars left on the land. Now they have mostly healed, but it has taken more than a hundred years. There are a few locations where pipes that carried water for the placer operation are still visible. Basically, the mining remnants have been pilfered and carried off to homes across the country, placed in people's gardens or hung on den walls, or sold for scrap. What started out as a vibrant 1800s mining town is now a part of the Caribou-Targhee National Forest, which was established in 1891 and occupies about three million acres. I grew up hiking in and around a national forest that was only sixty years old. I also explored the lake across the road from Herman. Grays Lake is 22,000 acres of marsh with hardstem bulrushes, cattails, and marsh flowers. It is the largest such marsh in America. Think of a wide valley that is lushly green with flowers blooming in the spring and still typically light green-beige by fall, in contrast to the brown late-summer colors of the rest of southeastern Idaho.
****
One of our neighbors, German-Swiss immigrant Fred Brinsinger, owned a mining claim on Caribou Mountain. I would go over and work with him from time to time. He looked like Abraham Lincoln with chiseled and gnarled features. He had obviously worked very hard in his life. He had numerous mining claims on Caribou Mountain. He had worked so hard, yet did not have much to show for it. He was an inveterate miner. He spent his earnings from farming and ranching looking for gold by tunneling into the mountain. The Monte Cristo (Christ's Mountain) was the name he dubbed his mining pursuits. At the time I was helping him, the mine tunnel was about 700 feet into Caribou Mountain. Miners know the risks and try to build mines safely for themselves, so they can stay alive another day. It is one thing to go on a mine tour and another to be whacking on the rocks. At night, my family would talk about Fred's dreams and why he was mining. I think in his case it was not so much about becoming rich—it was about the hunt and the discovery. Looking for that elusive mother lode was the goal.
Today, the tunnel is caved in and the entrance is almost indistinguishable. There are some remnants of his equipment: one is a Gardner Denver air compressor that powered the jackhammers used to drive in the steel bits, to make holes in the rock for placing the explosives. I remember he did not have antifreeze in the air compressor, and he would have to drain the radiator to keep it from freezing when it got too cold. We had to refill it with water we carried from a spring to where the equipment was sitting. Then he would climb a ladder to pour it in. The motor required a hand crank to start. I remember him doing this dangerous act on more than one occasion. When the motor started, it shook the ground and the buildings it was housed in. It felt like the earth's surface might drop out from underneath us. The whole procedure was really dangerous.
Before going into the mine, we lit carbide lanterns and carried them with us. The timber supports near the entrance were aging so much that you could peel off wood pulp layers with your fingers. We would drill holes with the jackhammer and feel the rocks shaking around us. The holes were for placing dynamite. After the holes were drilled, Fred always first sent me out of the mine to wait for him outside, while he finished setting the charges. Once, when we finished drilling holes with the jackhammer, Fred sent me out to wait while he set the dynamite charges. I sat there for what seemed like a very long time, waiting for him to come out. Then, I heard a dull thud, but Fred was not out of the tunnel. I thought, "Oh my God, Fred has blown himself up!" I was pretty worried and became more and more frightened as time went by, because I did not know what I would do if he was injured or killed in there. Finally he came out, moseying along and puffing on his pipe.
"Why did it go off when you were still in there?" I asked.
His only response was, "I guess I set it a little short." Fred was always puffing on a pipe, even with the explosives all around.
Probably my most important lesson from those days of exploring ghost towns and mining sites was my amazement at what people can accomplish with limited resources. Human ingenuity really does move mountains. Whether it is to build a town, to search for gold, or to establish a ranch, a great deal can be done with very little. When I explored the old towns, history came alive. As an adult, when I visit ruins in other places in the world, I often put myself into the mindset of what it must have been like to live there, and I feel more fully engaged in the experience. I think I practiced this skill during my childhood explorations, imagining the past in that setting, and at the same time being in the present moment. My early explorations—and growing up among French-, German-, and Spanish-speaking people—gave me an appreciation for the human side of all experiences.
In recent years, I have been back to visit the Monte Cristo site. All that is left is the machinery skeleton. When I think that I used to help start that thing, as a viable mining tool—and now it is abandoned and forgotten—it reminds me of another world. It is amazing to think how quickly time moves on. I remember pushing the ore cars down the track. As an adult, I remember seeing an ore car that had been vandalized and pushed down the mountain and off the track, and thinking that was one of the very cars I had pushed while working as a boy.
Those were interesting times as a young boy, to help an actual miner in a mining process that had not changed for a hundred years. Fred never did strike it rich. Eventually, he grew too old and could not do the kind of hard work that mining requires. He was probably one of the last of the original hard rock miners. It was a great experience to spend time with the real deal—a miner immigrant who helped make the West—one of those who came west in a quest for the American dream of making it rich.
****
As I grew into adulthood, I saw the ghost town of Herman, and others of my boyhood experiences, rapidly vanishing—being torn down, burned down, carried off by people, and disintegrating right into the ground. I saw and felt history vanishing as old weathered wood became a commodity for decorating homes and restaurants. To me it was destruction of early pioneer history—the destruction of the history that I loved so much as a youngster.