Pumpkin Cupcakes/Bacon Blasts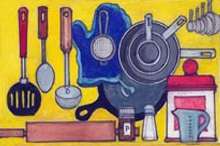 By Amy Larson
Pocatello Pumpkin Cupcakes
CAKE INGREDIENTS
1-3/4 c. all-purpose flour
1 Tbsp. pumpkin pie spice
1 tsp. baking soda
1/2 tsp. salt
1/3 tsp. cinnamon
1/3 tsp. nutmeg
1 (15 oz.) can pumpkin puree
1 cup granulated sugar
1/2 cup packed brown sugar
2 large eggs
1/2 cup vegetable oil
1 Tbsp. pure Mexican vanilla extract
1/2 tsp. almond extract
SWIRLED FILLING
8 oz . softened cream cheese
1/4 cup granulated sugar
1 large egg yolk
1 tsp. pure Mexican vanilla extract
1 tsp. almond extract
PREPARATION
Preheat oven to 375°F. Line muffin tins with paper cupcake liners. Set aside.
Blend dry ingredients in a medium bowl. In another bowl, combine the pumpkin and sugars. Add already-beaten eggs and oil, and then combine with the dry ingredient mixture, stirring well to eliminate lumps and bumps. Fill your muffin tins 2/3 of the way.
Top each muffin with about 1 Tbsp. of the swirled filling mixture and give it a swirl with a butter knife or toothpick.
Bake for 18-20 minutes, until cupcakes can pass the "clean toothpick" test.
These seem to be the most flavorful when eaten chilled (the cupcakes, not you).
Note: Turning at the Junction off I-84 towards Pocatello has the ability to warm my heart, especially in the fall. It's where my sister, Vivian Conner, lives with her husband, Shawn, her first "batch" of three daughters, (Chari Evans, Tiffany Bossert, and Arynne Briggs) all older, middle batch of "bonus kids" (Bailey and Aspen), and her "last batch" of three little ones, (Kyle, Ottolie, and Ryan), all under the age of ten.
With the patience of Job, Viv somehow manages to stay in close contact with her older girls, while juggling motherhood of the younger kids, and puts pretty fabulous meals on the table every night to boot.
"She is the best cook," Aspen testifies, and everyone in the extended family knows it's true. Particularly special to Viv is the arrival of autumn and pumpkin-infused recipes. This one seems like something she'd make, adding her own special flair.
*My altered version of a recipe found in thenovicechefblog.com
Boise Bacon Blasts
INGREDIENTS
One thick slice maple-smoked bacon per "blast"
2 or more cups chilled mashed potatoes (real is best, infused with some garlic)
1 egg, beaten
1/2 cup panko
Sharp cheddar, in 1" cubes (one per "blast")
Salt, pepper, and a pinch of paprika, and/ or cayenne to taste
Skewers or toothpicks
Oil for frying
Sour cream (could add chives), French onion dip, or ranch dressing for dipping
PREPARATION
Combine egg, salt, pepper, and any other seasonings, and mashed potatoes in a large bowl.
Shape chilled potato mixture around a piece of cubed cheese, to form a ball. Roll balls in panko that's been placed on a deep plate or broad bowl.
Wrap a slice of bacon around the breaded balls, then secure with pick or skewer. Place just a few at a time in hot oil, wait until balls are crispy and golden before removing. Place on a paper towel or sturdy napkins to let drain. Try to resist eating them when they're still super hot! Even warm, they'll still be dripping with cheesy goodness.
Dunk into sour cream or complementary dip of choice.
Note: One of my favorite things to do is stroll in downtown Boise on a Saturday morning with my sisters, Laurel Blackstone and Melissa Peterson. It doesn't seem to happen often enough, but when we're together, we grab brunch at one of the many breakfast-centered eateries and wander through the Capital City Public Market and Boise Farmers' Market, making sure to sample here and there.
No weekend is complete without a meal that includes locally grown and cured bacon, usually done in-house. More than once, we've had a 'bacon-a-thon', where samples of everything from candied to spicy hot bacon grace our brunching table. The three of us (sometimes accompanied by significant others and offspring) enjoy the tasty bites, people-watching, and catching up on new and old family news. I can't think of bacon without thinking of brunching with my sisters.
Here's a little twist on a new, popular recipe. I'm pretty sure it's addictive.
*This is an altered adaptation of a recipe found on ohbiteit.com