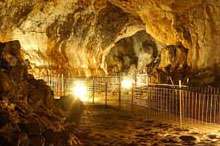 When my father, Richard Olsen, was a high school senior in 1954, he discovered what he would later name "Idaho's Mammoth Cave" while hunting bobcats in the desert outside of Shoshone.
At the time, he was with his high school girlfriend, and stumbled across the entrance by accident. Forgotten over time, it had previously been known only by ancient tribes and early white settlers who utilized the cave for shelter and storage.
"I talked my girlfriend Vinita into exploring the cavern with just a single flashlight. As my excitement and imagination grew, expecting to find treasure at any moment. Vinita, scared and unhappy, cried the whole way in and the whole way out."
But for my father, it was love at first sight and he decided he wanted to share it with the world.
When you're driving through southern Idaho on Highway 75, you'll see the sign for "Idaho's Mammoth Cave" in big colorful letters, seven miles north of Shoshone. If you take the time to drive the dusty mile off the highway, you'll discover what a diamond in the rough awaits you and the rich history it holds.
I grew up in the desert that claims the Mammoth Cave. It is a place where ancient lava flows scar the land, and harsh winter winds and snow provide nourishment for exploding wildflowers and lush sagebrush.
Continue reading →