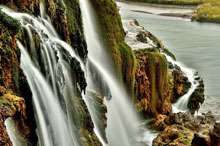 I've lived in Idaho almost all of my life, yet feel like I've never really explored it. Don't get me wrong, I love whitewater rafting down the Snake River and boating at the Ririe Reservoir or Palisades Reservoir, but I have never enjoyed sleeping in a tent.
Only recently did I realize that I could discover some of the hidden gems in my state without having to camp out.
It began when I was searching on the Internet for fun places to go near my home in Ammon, and came across a place called Fall Creek Falls. Looking at amazing pictures of the waterfall, I scolded myself, "You've lived in Idaho for almost thirty years and haven't been to Fall Creek Falls?" I mentioned the place to my brother Brent, who said he had never been there either. We decided to go together.
As it turned out, Brent took an opportunity to visit Fall Creek Falls before me, which meant that he could later show me the way. When he told me that the falls were within about a forty-five-minute drive from my house, we picked Memorial Day for our trip, since I had the day off. We got up early that morning and hit U.S. 26, or the "Old Highway," as I called it growing up. It's a scenic drive past wheat fields and along the Snake River to Swan Valley. The morning was dark as we approached the turnoff for Fall Creek Falls, which made it difficult, since there are no signs for the waterfall. Luckily, we found the turnoff and drove a few more miles. Brent had told me the waterfall was literally off the side of the road, but I didn't believe him until we came down the hill and heard the rushing water right next to us.
We enjoyed the view from up above the falls, but then Brent decided to venture down to get a front-on view of the falls on a little island. Getting to the island is hard to do, and usually is only accessed via boat, but I was unaware of that at the time, so I joined Brent. The river made it difficult for us to get across to the island, but branches from a tree formed a little bridge. I took a big step onto the branches but my leg plunged about three feet into the Snake River, and got stuck between the branches. I had my camera on my shoulder and feared I would ruin it by toppling into river, but the branches immobilized me until I could figure out how to get to the island. Continue reading →