A Temporary Pet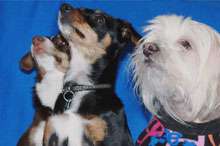 Fostering Shelter Animals
Story and Photos by Rene Kaiser Riley
I was five years old when I walked into my grandma's house with a baby bird I'd found on the sidewalk. With tear-filled eyes, I announced in a determined voice, "It needs my help." And so it began.
Decades later, I'm still rescuing animals. The list is a melting pot of species: small birds, dogs, cats, a pregnant guppy, a garter snake, a turtle, and last year an injured duck that showed up on my back patio looking for food. All I can say about the duck is that I never would have imagined I'd be baking homemade duck food with dried mealworms in it. I strongly recommend opening all your windows and turning on the fans while preparing that.
I'm a big believer in the motto "Don't shop, adopt!" The majority of my fur babies have come from shelters. If any readers cringe at the thought of walking through a shelter, it's okay, I understand. I know the angst of looking into soulful eyes and having to walk away. I've felt the mix of emotions in picking only one when I wanted to save them all. But there is another way. Even though nobody can give all animals a new home, it is possible to help thousands of them to find a family through foster parenting.