Alone Is Fun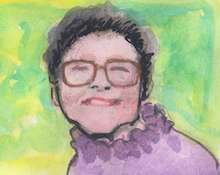 But It's Nice to Venture Out
By Marylyn Cork
When Covid-19 shut down the state, I decided to regard the stay-at-home order as a challenge. I would take the governor and the medical establishment seriously, and self-quarantine at home. Having been retired for some years now from active life in the community, I had already relearned what I knew in my youth—I really like to be alone. But in all my life I never had been alone for any great length of time.
Isolating myself would be a test—would I pass or fail? I wanted to know.
For the first month or so, I didn't leave my property except to venture the eighth of a mile to pick up my mail at the bottom of the hill, except on one occasion. I had left my car key in the ignition and ran the battery down. When my elder son started the car again, I drove a loop through the community to build up the battery.
Except for my son and his wife, who stopped in briefly every third day or so, I didn't see a soul during all that time, nor did I want to. I cleaned house, gardened in the yard when the weather would let me, wrote a little, and read a good deal.