Bag Lady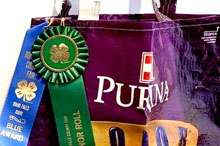 A Recycling Goddess
By Amy McClellan
Photos by Jodi Gebarowski
I was born into a frugal farming family. Waste was neither allowed nor a normal response to everyday life. Plates were cleaned at the table with a final swipe of a piece of bread. When disposable plastic tableware was used on occasion, it was always washed and saved for another day.
My grandmother kept those green plastic baskets from berries and other produce so we children could create zoo cages for tiny plastic animals, which kept us occupied for hours. She also saved plastic boat-shaped dishes which had once held a rare treat of ice cream atop a banana and bursting with whip cream, cherries, and nuts. These boats could be upgraded with sails or other decorative improvements and ferried down a puddle or pond. I was thrilled to find some of them at an estate sale a few years ago, as well boxes of items such as glasses that formerly were jelly jars, and baby food jars repurposed as snow globes.
The younger generations have many disposable items and when given the opportunity, they often choose to "recycle, reduce, reuse." Common items such as aluminum cans, plastic bottles and paper have had good lives through recycling, yet it is a joy to see new ideas for their reuse.