Barbecue Chicken/Lemon Raspberry Cookies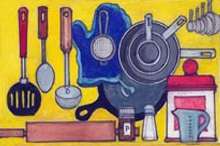 By Amy Story Larson
McCammon White Mountain Barbecue Chicken
INGREDIENTS
1 tsp. minced garlic
1 tsp. powdered garlic
1 Tbsp. Creole or regular yellow mustard
1 tsp. horseradish, prepared
1 c. mayonnaise
1/2 tsp. coarsely ground black pepper
1/4 tsp. paprika
1/4 tsp. salt
1/4 c. white vinegar
4 cups white barbecue sauce
4 large skin-on, bone-in chicken breasts
¼ cup olive oil
½ teaspoon kosher salt
¼ teaspoon freshly ground black pepper
PREPARATION
> Make a double batch of Béchamel or white sauce. Use two cups of it for the marinade, reserving one for cooking, and one for serving time. Put four chicken breasts in a gallon zip-lock bag with two cups of sauce, and allow to marinate overnight, or a minimum of four hours. Keep in refrigerator while marinating.
> When grilling, heat grill to high, take chicken from bag and be sure to discard the marinade. Chicken could be rinsed off and patted with a paper towel, if desired. Spray or brush olive oil over the skin, sprinkling with salt and pepper.
> Place chicken on grill 2-3 minutes, long enough for grill marks, then flip and coat with more olive oil, cook for another 2 minutes. Then, place on upper rack or away from hottest part of grill, turning the temp down to medium. You're shooting for internal heat of about 425 degrees, with lid closed. Brush small amount of sauce onto chicken, cover, and wait about five minutes, then brush again, and wait for another five minutes. Do this a few times. The tops will turn crispy. After the final layer of sauce, close grill and allow to cook for another 10-20 minutes. Total cooking time should be about 30 minutes.
> Place on a serving plate, brush with remaining sauce, and serve with even more white sauce.
NOTE: I recently visited the log cabin home of Marian and Gary Fairchild, up in the hills of McCammon, and completely off the grid. Magnificent views, a creek trickling nearby, a chorus of birds, squirrels, and hummingbirds filled the senses and soul. Drama ensued when "Oliver Wendell Holmes", (their white cat), climbed a tree to capture a favored squirrel. And when Gary reached out to hold a yellow finch on his finger, the bird went from his hand to Marian's, to their granddaughter EmmaLee's, to mine.
"Do you want to go for a trail ride?" Gary asked, and the four of us hopped onto their ATVs and rode up the gravel road to a well-used route beyond, where wildflowers bloomed in profusion, and the air filled with the promise of summer, after McCammon's often brutal winter.
"This is our heaven", they told me, and I saw why. Their situation is unique, different, and I appreciated that. The barbecue sauce is aptly named for their area, I heard about white barbecue sauce being all the rage years ago. Most people think barbecue has to be a shade of red, but try this one out and see what you think. Different can be very, very good.
*Adaptation of a recipe found at afamilyfeast.com
Lava Hot Springs Lemon Raspberry Cookies
INGREDIENTS
1/2 c. unsalted butter, softened
1 c. sugar
1/2 tsp. vanilla
1 large egg
1/2 lemon, zest and juice
Optional: replace with lime zest and juice
1/4 tsp.salt
1/4 tsp. baking powder
1/8 tsp. baking soda
1 1/2 c. all-purpose flour
3/4 c. frozen raspberries, coarsely chopped
PREPARATION
> Set oven at 350 degrees.
> Prep 2 cookie sheets with cooking spray or parchment paper and set aside.
> In large bowl, blend butter and sugar until fluffy. Add vanilla, egg, lemon zest and juice, then mix well. Add in salt, baking powder, baking soda and flour, and mix well. Fold in raspberries, mixing briefly.
> Drop a tablespoon per cookie onto the sheets. Dough will be quite sticky. Bake for 14-16 minutes until barely brown around the edges, and lose their "shine". Preserve remaining dough by putting it in the fridge before baking, since dough could get even softer, should the berries thaw.
> Optional: to fancy them up, garnish with a sprinkling of powdered sugar.
> Let cookies cool for 10 minutes on a wire rack.
NOTE: The locals call it "Lava" with a flat "a", not "Law-vah".
It had been years since I'd been to Lava, returning to soak my soul in the healing mineral waters giving the town its fame.
I know of no other town sporting a welcome arch including a waterslide and bridge over a steaming river. I visited the commercial hot springs, and then took a walk through the Sunken Gardens nearby, with the pockets of lava rock, perfectly suited for sitting and reflection as the highway and train tracks hummed on the hillside above.
*Source: Adapted from Lauren's Latest via Mel's Kitchen Cafe , then re-adapted by bake-eat-repeat.com, then re-readapted by Amy Story Larson.