Biscuits and Gravy/Popcorn Balls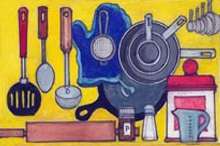 By Amy Larson
Biscuits and Gravy Bake
CAKE BATTER
1 roll biscuit dough
5 eggs
1 package of sausage or peppered gravy mix (should make up to 2 cups)
1 lb. country sausage, cooked
1 c. sharp cheddar cheese, shredded
½ c. milk or half and half
Salt, pepper, garlic, cayenne to taste
PREPARATION
Set oven at 350 degrees to preheat. Prepare a 13" x 9" cooking pan.
Cut dough into small pieces, place them in bottom of the pan, then layer cooked sausage over dough, followed by a layer of cheese.
Combine milk, eggs, salt and other spices, then pour over entire mixture. Prepare gravy, and then pour over all.
Bake casserole for 30-45 minutes, or until biscuits and eggs appear to be fully cooked.
Note: Weekends in Mackay are different. Slower. Simpler. If it's possible for food to taste better depending on the location, Mackay is where biscuits and gravy, the ultimate morning comfort food, should be enjoyed. The clean mountain air and high altitude seem to lend themselves to flavor.
My sister, Laurel Blackstone, and her husband Lloyd, visited Ken and Sharon Krishnek's "Mackay Shack" long before they ever purchased a home in the small town, once called the "last of the true Old West towns."
Many a morning has been spent gathering around the vintage kitchen table at the Mackay Shack while hot mugs were poured, conversation flowed, and hearty appetites were satisfied.
Spring Popcorn Balls
INGREDIENTS
½ c. Cadbury™ mini eggs, malted milk balls, or other colorful candy-coated chocolate candy (like M&M'S™), refrigerated
1 Tbsp. colored sprinkles
1 c. teddy-bear shaped graham crackers
4 c. popped popcorn
1 Tbsp. sweet, creamery butter
20 marshmallows
PREPARATION
Grease an 8" x 8" pan.
In microwave safe bowl, melt butter. Stir in marshmallows, coating with the butter, and microwave again to melt (approximately one minute). Stir together to mix well, then add in graham crackers and popcorn.
Press popcorn mixture into the baking pan, then press the candy on top, and decorate with the sprinkles.
After cooling, cut into sections and serve.
Note: A colorful, unexpected after-school (or after work) snack says love in any language. Let thoughts go of ruining dinner while you watch these crunchy, sweet morsels disappear into mouth after mouth. These will call back a time of swings, swimming pools, riding bikes all over the place, and playing kick the can in the middle of the street with the neighbor kids.