Born and Raised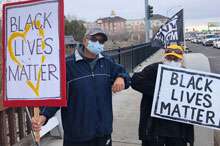 Black in Idaho
By Dennis Patterson
Photos Courtesy of Dennis Patterson
Idaho Falls native Dennis Patterson has been a lifelong advocate for equal rights and fair treatment, as he describes in his 2020 book, Black Pearl: Living Black in Idaho. He worked for the National Association for the Advancement of Colored People (NAACP), was president of the non-profit Idaho Falls African American Alliance (AAA), and had a thirty-four-year career, mostly as an ethics officer, with Idaho National Laboratory. Excerpts from Black Pearl are reprinted here with permission.
I was born in Idaho Falls on April 14, 1955. I came home from the hospital to a wooden shack right next door to the first Black church in Idaho Falls—Church of God in Christ. I was the youngest of five children. My sister Norma was three years older than me; then there were my sisters Lou and Judy. The oldest was our big brother, Donald Duwayne. We had an outhouse and hauled water from a nearby well. Electricity was our only luxury. Mom nailed wooden orange crates to the wall and added "curtains" to them and used them as cupboards. When the knotholes in the wood floors fell out, she would use the tops of tin cans to cover the holes. In the winter she would stuff rags between the wooden slats to keep the wind out. In spite of the conditions, Mom always kept our little house clean, and Dad always did his best to keep food on the table.
Mom was Native American, from South Dakota, and a member of the Sioux nation. Dad was African American, from Grand Island, Nebraska. In 1941 Dad enlisted in the Army and served his country in Europe until the end of World War II in 1945.
"Son, when I served, the troops were segregated. Blacks weren't considered brave or smart enough to be on the front lines, so I ended up driving trucks."
After Dad got out of the Army, he and Mom wanted to get married. However, since interracial marriage was against the law in South Dakota and Nebraska, they got married in Salina, Kansas. Later that year they moved to Idaho Falls.
* * * * *
In 1970, my father was elected vice president of the Idaho Falls Laborers Union. One of my proudest moments was when Dad came home from a union meeting.
"Pearl, I'm going to a leadership conference in Florida."
"Honey, I'm so proud of you. Hey, kids, did you hear that?"
I had heard it and yes, I was over-the-top proud. We went with Mom to take Dad to the airport. He was taking his very first airplane ride. Our dad, who had to drop out of school in the tenth grade to help take care of his family, was making history as one of the first Blacks in a leadership position in Idaho Falls.
At the age of seventeen, I was hired by the Idaho National Laboratory (INL) for the summer as a laborer. The INL is a government facility managed and operated then by Aerojet Inc. It was under the purview of the U.S. Department of Energy, Idaho Operations Office (DOE-ID). At the time it was called the National Reactor Testing Station. The nuclear test reactors were located at a remote site forty-five miles west of Idaho Falls. The INL was one of the largest employers in the state and the place where most everyone wanted to work, largely because of the good pay.
The person coordinating the summer hire program happened to be Black and coincidentally was dating my sister Lou. Bill Swift had been hired as a human resource analyst in 1970, having just graduated from Fort Valley College, Atlanta, Georgia. This time period was the beginning of Affirmative Action and Equal Employment Opportunity (AA/EEO). AA/EEO was a set of laws and policies intended to end and correct the effects of discrimination. In the early years it included quotas that required government contractors to take specific actions to ensure minorities were represented in the workforce. This was my first job and my first experience with people of many different races. There were Blacks from Compton, California; Chicago, Illinois; and Pocatello; Native Americans from Fort Hall; Japanese Americans from Idaho Falls, and Hispanics from Blackfoot. It was truly a rainbow of peoples. Of course, the majority of our co-workers were white. We all worked together well and developed many friendships. We minorities even joked with our white counterparts that "race has its privileges."