Bourbon Chicken/Sopapilla Cheesecake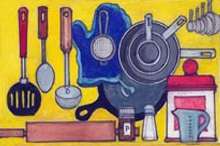 By Amy Story Larson
Indian Creek Bourbon Chicken
INGREDIENTS
2 lbs. boneless skinless breasts, cut into pieces
1 Tbsp. olive oil
1 garlic clove, crushed
¼ tsp. ginger
¾ tsp. crushed red pepper flakes
¼ c. apple juice
1/3 c. brown sugar
2 Tbsp. ketchup
1 Tbsp. cider vinegar
½ c. water
1/3 c. soy sauce
1 Tbsp. cornstarch
PREPARATION
> Heat olive oil in a large skillet. Add chicken pieces and cook until lightly browned, remove chicken.
> Add remaining ingredients, heating over medium heat until well blended. Add browned chicken to sauce, and bring to a hard boil.
> Reduce heat and simmer for 20 minutes, uncovered.
> Serve over cooked rice.
NOTE: The group we called the "Weekend Crew" had gone back and forth over where to have lunch.
"I just can't do another buffet," one said, although he was already outvoted. We went to the buffet, and the doubter wound up loving it. This Nampa eatery sported Bourbon Chicken, which I made a beeline for. It had been my favorite for ages.
"Hey, Amy," one of the crew said, "Let's get our driver to take us down the Boulevard to the new Indian Creek Plaza in Caldwell, I want to see it."
"I walked over there with my grandson just the other day," I replied. "It's pretty neat."
The crew walked past coffee shops and the historic Steunenberg Block, en route to where we heard plaza music bouncing off the walls. Open to our view were children and adults of all ages, dancing together, seated yet tapping their toes, and splashing in the fountains. As we sought shade, other visitors vacated chairs and offered us seats, and we sat with strangers who became friends.
"Thank you for making our visit so fun," I told them. "These guys never come to Caldwell, I keep telling them how cool it is."
"We're from Portland," they laughed. "We've never been here, either, but we like it!"
A good time was had by all, especially the Weekend Crew.
*Recipe adapted from bestfoodsdrinks.blogspot.fr
Sharon's Summer Sopapilla Cheesecake
INGREDIENTS
2- 8 oz. packages of cream cheese, softened
1 c. sugar
1 tsp. Mexican vanilla
2- 8 oz. cans of refrigerated crescent rolls or sheets
¾ c. sugar
1 tsp. ground cinnamon
½ c. butter, room temp.
¼ c. honey
PREPARATION
> Beat cream cheese with 1 c. sugar and vanilla in bowl until smooth and set aside.
> Unroll the cans of crescent roll dough and use a rolling pin to shape each piece into a 9 x 13 rectangle or you press into the bottom of a 9 x 13 baking dish.
> Evenly spread the cream cheese mixture into the baking dish, then cover with the remaining sheet of crescent dough. Stir together ¾ c. of sugar, cinnamon and butter. Sprinkle the mixture over the top of the cheesecake.
> Bake in the preheated 350 degree oven until the dough has puffed and turned golden brown about 30-40 minutes. Remove from oven and drizzle with honey. Cool completely in pan before cutting.
NOTE: It was one of those late-summer backyard parties. The hosts, Tim and Tammy Biagi, didn't go to Mexico that summer, so they brought the beach to us. Taco bar, pepper-eating contest (I tied with their friend, Christal Holmes), and late-night volleyball while tunes floated through the air.
"Try this," Sharon Waller said, handing me a scrumptious square of goodness when I walked through the back kitchen door to duck out of the oppressive 100-degree summer heat. Sharon was known by the gang as the Dessert Queen. Her baked goods are worth fighting over. I took a bite, and then generously passed the remainder to a nearby friend, whose eyes lit up, just as mine had.
"Must. Have. Recipe," I said, around the bite I'd just taken from a second piece of sopapilla. "It's like cheesecake with a strudel topping, with some kind of crust . . ."
"Crescent dough." Sharon smiled knowingly. "Isn't it good?"
"Oh. My. Word," I practically sighed out. "Yes."