Breakfast Pizza/Confidential Fudge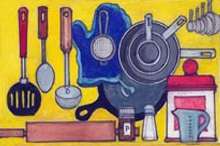 By Amy Larson
Scrambled Egg and Mozarella Breakfast Pizza
Recipe created by 3-Every-Day™ of Dairy
INGREDIENTS
1 whole wheat English muffin
2 mushrooms, sliced
2 green onions, finely chopped
4 tablespoons diced green or red bell pepper
1/2 cup egg substitute
1/4 teaspoon pepper
oregano or Italian seasoning, dash
4 teaspoons pizza sauce
1/2 cup shredded low-moisture, part-skim Mozzarella cheese
PREPARATION
Preheat oven to 350 degrees Fahrenheit. Split English muffin in half and toast; set aside.
Heat a small non-stick skillet over medium heat. Add mushrooms, green onions and bell pepper. Cook, stirring continuously for 2 minutes, or until vegetables are softened. Stir egg substitute, pepper and oregano into vegetable mixture. Cook, stirring continuously until egg substitute is set, about 2 minutes.
Spread 2 teaspoons of pizza sauce onto each English muffin half. Spoon a quarter of the egg mixture over pizza sauce and top with a quarter of the cheese. Spoon the remaining egg mixture and cheese evenly on top of the muffins. Place the muffins on a baking sheet and bake for 5 minutes, or until cheese is melted. Or, bake in a toaster oven at 350 degrees Fahrenheit for 5 minutes.
Makes 2 Servings
NOTE: I love the emergence of pumpkins being used in savory dishes. When I attended the Sun Valley Harvest festival last year, pumpkin was being incorporated onto pizzas, in tacos, in ravioli; we foodies saw it everywhere. It's not just for pies anymore, although the sacred traditional pumpkin pies are among my favorite fall treats, too.
Michelle Chadd's Award-Winning Confidential Fudge
INGREDIENTS
3 c. semi-sweet chocolate chips
1/3 – 1/2 c. cinnamon chips (optional)
1 –      8 oz. jar of marshmallow creme
2 tsp. vanilla
2 sticks of butter
2 c. chopped nuts (optional)
1 –      12 oz. can evaporated milk
4 1/2 cups sugar
PREPARATION
Put chocolate chips, cinnamon chips, marshmallow creme, vanilla, butter and nuts in a large bowl. Combine milk and sugar. Bring to a full boil and continue boiling for 12 minutes. Pour hot mixture over rest of ingredients and mix thoroughly.
Pour into a buttered 9" x 13" in. pan. Chill until mixture is set.
Yield: 5 pounds of the best fudge ever.
NOTE: Michelle shares, "My mom, Naomi Gard, made this approximately fifty-year-old recipe every year. She'd make half with nuts, half without, since my brother and I didn't like nuts.
"For the Twin Falls County Fair's Chocolate Extravaganza, I tossed in some cinnamon chips to make the fudge stand out a bit, without testing it ahead of time, and won a Second Place ribbon. Liking that hint of cinnamon to the taste."
Michelle is wife, mom, grandmother, reader, crochet-er, seamstress, landscape photographer, a receptionist at a church in Twin Falls, and has a side job doing health assessments for military service members that involves a lot of interesting travel.
She says, "If we didn't have anything to look forward to, life would certainly be boring."
These recipe pages are brought to you by The Idaho Dairy Council.