Broccoli Pear Salad/English Toffee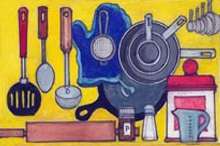 By Amy Story Larson
Broccoli Pear Salad
SALAD INGREDIENTS
5 c. broccoli, cut into small pieces
1 Pink Lady apple, diced
1 pear, diced
1/4 c. red onion, diced
1 c. cashews
1 c. dried cranberries
DRESSING INGREDIENTS
1/2 c. mayonnaise
1/2 c. Greek yogurt
2 Tbsp. lemon juice
3 Tbsp. honey
Salt and pepper to taste
Minced garlic (optional) to taste
PREPARATION
> Stir together mayonnaise, yogurt, lemon juice, and honey. Add seasonings to taste.
> In another bowl, combine broccoli, apple, pear, red onion, cashews, cranberries. Pour dressing over combination. Salad can be served right away or chilled in refrigerator for at least 30 minutes to give the flavors a chance to mingle.
NOTE: This recipe was shared by my childhood neighbor, Lori Parmenter. When we were kids, she and her younger sister, Lisa, spent hours looking for adventure with my sister Laurel and me. I learned to ride a bicycle in their driveway, had my first sleepover in their basement, and when the nearby school was out of session, we ruled the playground. I've often been comforted by how sharing a favorite recipe can bridge the gaps of time and distance.
Old School English Toffee
INGREDIENTS
1 c. chopped pecans, walnuts, almonds, or peanuts
3/4 c. brown sugar, packed
1/2 c. butter
1/2 c. chocolate or white chocolate chips
PREPARATION
> Spread chopped nuts into bottom of a prepared 8×8" pan.
> In a medium pot, bring sugar and butter to a boil for approximately seven minutes. Pour into pan, spread over crushed nuts, and sprinkle the chips over the top.
> When chips are melted, spread them out over mixture.
> When cooled, break into festive pieces and share!
VARIATION: White chocolate with mint extract and mint flakes for garnish are excellent with cashews.