Caprese Appetizers/Italian Soda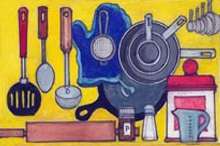 By Amy Story
Caprese Salad Appetizers
INGREDIENTS
Handful of clean, fresh basil
Mozzarella balls, cut in half
Cherry or grape tomatoes
Balsamic vinegar (garlic, lavender or another that has
flavor infusion is great to change up the taste a bit).
Toothpicks
PREPARATION
>Spear basil, tomatoes, and cheese, in any order you'd like. It's fun to put a half-ball of cheese with flat side down, so the base and appetizer will stand upright on a platter, but you also could place them horizontally on the platter.
> Drizzle with balsamic vinegar of your choice. If the vinegar is thin, it can be reduced over low heat in a pan for thickening before drizzling.
> This is a favorite go-to dish around our household: quick, nice-looking, impressive—perfect for visitors.
Note: The origins of Caprese ("kuh-pray-say") salad are uncertain. Some say it dates back to post-World War I Italy, when a patriotic mason wanted to make a dish that represented a tribute to his nation by incorporating the tricolors of the country's flag. Another version has it that a chef at the Hotel Quisisana on the island of Capris invented it in the 1920s to please the palate of a persnickety regular guest. Yet another legend says it was invented by the Roman Emperor Tiberius, who lived on Capri. Whoever was responsible, they did a good thing.
Homemade Italian Sodas
INGREDIENTS
Ice
Torani™ flavored syrup
Raspberry-lime sparkling water
Splash of lime juice
Heavy cream
PREPARATION
>Fill two glasses with ice.
>Fill each glass about 1/4 to 2/3 full with the raspberry syrup.
>Top each glass with sparkling water and a splash of fresh lime juice.
>Slowly pour desired amount of heavy whipping cream into each glass.
>Top with fresh raspberries.
Note: A bunch of garnishes like fresh berries, citrus wedges, maraschino cherries, or herbs such as mint can be placed in bowls so guests can have fun customizing their drinks.