Cheesy Bread/Baked Pears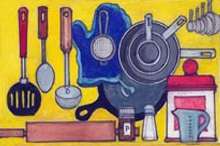 Cheesy Pull-Apart Party Bread
INGREDIENTS
1 large loaf of French, Italian, or sourdough bread
1/2 c. butter, melted
1 clove garlic, minced
1 bunch scallions or green onions, thinly sliced
8 oz. sharp cheddar cheese, shredded (about 2 c.)
8 oz. Monterey jack cheese, shredded (about 2 c.)
Sesame seeds, poppy seeds, and/or fresh parsley to be used as a garnish, optional but
recommended: adds a lot when it comes to color and texture.
PREPARATION
Preheat oven to 350. Prep a sheet of heavy-duty tin foil with cooking spray.
Slice bread in a criss-cross pattern, cutting ½" grid lines into the top of bread. Stop cutting at approximately ¼" from the bottom crust to keep loaf together. Gently place bread on sheet of tin foil, prepped with cooking spray.
In a bowl, combine melted butter, green onions/ scallions, and garlic.
Separating the bread sections with fingers, spoon butter mixture into cut lines, evenly distributing. Wrap loaf in foil and set directly on rack in oven. Bake for 10 minutes, then remove from oven and increase oven temperature to 425.
Open foil and distribute shredded cheese atop bread. Push cheese between crevices, there will be plenty, which is a good thing. Return loaf to oven with the foil still open. When cheese is thoroughly melted and bubbly with a brown top, remove. This will take about 15 minutes.
Let stand a few minutes before serving. Just before its debut, sprinkle the garnish over the loaf. Beware: your friends and family will be crazy for this one.
NOTE: Patti Saunders Mays and her husband of 34 years, John, now reside in Boise with their three dogs after retiring. She works on her cooking site (greatcookingideas.com) daily and is also a writer and editor. We got this recipe from her site, which Patti says she got from a favorite blog of hers called "BrownEyedBaker."
Baked Pears with Vanilla Yogurt and Granola
INGREDIENTS
2 medium pears (Bartlett or D'Anjou pears)
1/2 c. apple juice
1 c. water
1 Tbsp honey
3 (6-oz) containers low-fat vanilla yogurt
1/2 c. low-fat granola
mint leaves, optional
PREPARATION
Preheat oven to 375. Halve pears lengthwise and remove core with melon baller or small spoon. Place pears, cut side down, in a shallow baking dish just large enough to hold them.
Pour apple juice and water over pears; drizzle with honey. Cover pan loosely with foil and bake about 35 minutes or until tender. While pears are baking, place granola in a shallow baking pan or pie plate and toast in oven 10 minutes. Set aside.
When pears are done, pour baking liquid into a small saucepan and reduce over medium heat until about 1/4 cup of syrup remains; set aside to cool.
Line a colander with paper towels and place over bowl to catch drips. Pour yogurt into colander and drain about 30 minutes. Divide yogurt among 4 shallow bowls. Place warm pear half, cut side up, over yogurt. Top with toasted granola and drizzle with syrup. Garnish with a mint leaf, if desired.
Yield: 1/2 pear plus 1/4 of yogurt mixture per serving
NOTE: Pears are the perfect holiday fruit. Called "gift of the gods" by Greek poet Homer, Europe cultivated the delicacy that was immortalized in the carol, "The Twelve Days of Christmas." Without much effort, this recipe is a simple yet elegant way to impress guests for either a brunch or after-dinner treat.
These recipe pages are brought to you by The Idaho Dairy Council.