Chicken Enchilada Soup/Zuppa Toscana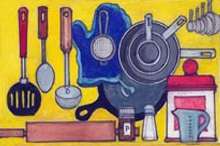 By Amy Story Larson
Our guest receipes this month come from Ashley Maxwell, a resident of Owyhee County for more than fifteen years, a wife, and the mother of Khyler, Charleigh, and Kaelyn. This lover of the outdoors keeps very busy as manager of a cafe in Homedale, wowing people with her recipes. Ashley told me she created the enchilada soup receipe on this page at the cafe. "I started throwing stuff in a pot and it turned out delicious. It was one of those nights everything but the kitchen sink went in. I cook that way often, then remake and remeasure later."
Chicken Enchilada Soup
INGREDIENTS
1 Tbsp. extra virgin olive oil
A small onion, chopped
1/2 c. bell peppers ( I use a combo of green, red, and yellow)
4 oz can chopped green chilies
1 Tbsp. chili powder
2-3 tsp. cumin powder
2 tsp. salt
1 tsp. pepper
2 Tbsp. minced garlic
10 oz. can enchilada sauce (I use red, but green isn't too shabby)
4 c. chicken stock
4 oz. cream cheese, softened
2-3 c. shredded chicken
1 c. Mexican blend shredded cheese (or any shredded cheese you prefer)
1/4 c. chopped cilantro
1 lime, juice (use zest as well if you like)
1 c. sour cream
PREPARATION
> In a large stock pot over medium heat, add oil, onion, bell peppers, green chilies, chili powder, cumin, salt, and pepper, stirring to combine. Cook for 5-7 minutes or until onions and bell peppers are softened.
> Stir in garlic and cook for another 1-2 minutes. Add enchilada sauce.
> If you enjoy a thicker soup, pour ingredients of the pot into a blender and blend until they reach a smooth consistency. Pour back into the pot.
> Add chicken stock and bring to a slow boil. Just keep stirring, just keep stirring, whoa, thought I lost ya. Now add the shredded chicken and shredded cheese. Keep at a medium simmer and stir in cilantro and sour cream. Get ready to enjoy! Adding diced avocado, jalapenos, extra sour cream, and diced tomatoes are all friendly options. Or top with tortilla chips.
Zuppa Toscana
INGREDIENTS
1 lb. mild sausage
3 large stalks of kale (3 c. if bagged)
1 yellow onion
2 Tbsp. minced garlic
3-4 russet potatoes
64 oz chicken broth (my favorite is bullion paste)
1/2 tsp. salt (more to taste)
1/4 tsp. pepper (more to taste)
1/2 c. heavy cream
PREPARATION
> Cook sausage in a large soup pot on medium heat until there is no pink left.
> Drain sausage and residual oil (keeping a little oil on the side). Now get ready to cry: dice the onions finely and toss them in the soup with a little oil (I like to use the grease from the sausage). Cook the onions until they're translucent, add minced garlic, and turn heat to low.
> Cut up potatoes and put them in the soup with sausage, onion, garlic, and chicken broth. Turn up heat and cook until potatoes are almost done, then add salt and pepper. Stir well, until it reaches boiling.
> Turn off heat. Add cream and kale.
NOTE: Rub the kale in paper towels before tossing it in the pot, which will take the bitterness out of it and let its sweetness shine. Let the mixture sit for 10 minutes. Top with grated parmesan if you wish. Enjoy.