Cinnamon Roll Cake/Frittata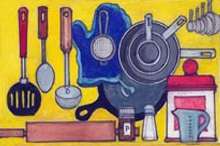 By Amy Story
Cinnamon Roll Birthday Cake
INGREDIENTS
Cake:
3 cups all-purpose flour
1 cup white granulated sugar
4 tsps. baking powder
2 large eggs
2 tsps. vanilla extract
1-1/2 cups milk
1/2 cup (1 stick) salted butter, melted
1/2 tsp. black pepper (optional)
Filling:
3/4 cup (1-1/2 sticks) salted butter, softened to room temperature
1 cup packed light brown sugar
2 Tbsps. flour
1 Tbsp. ground cinnamon
Glaze:
2 cups powdered sugar
5 Tbsps. milk
1 tsp. vanilla extract
PREPARATION
Cake:
>Preheat oven to 350 degrees.
> Spray 9×13 in. baking dish with nonstick cooking spray.
> In a large bowl combine ingredients for cake (except melted butter) with a mixer.
> While mixer is running, slowly add the butter. Mix until just combined.
> Spread batter evenly into baking dish.
Filling:
> In a small bowl, combine all filling ingredients: softened butter, brown sugar, flour, and cinnamon. Stir until combined well.
> Drop cinnamon filling by spoonfuls onto the cake batter.
> With a butter knife, make swirly marble-effect patterns all around the cake. Drag the knife through both the cinnamon and cake batter.
> Bake cake for about 35-40 mins. until a knife inserted into the center comes out clean.
Glaze:
> Whisk together powdered sugar, milk and vanilla extract in small bowl.
> Pour the glaze over the warm cake.
Note: I admit that I've not made cinnamon rolls much in this lifetime, because their preparation is laborious. Discovering this recipe was a game-changer. I'd love to know how this one works out for you. Let me know at @amystory777 on Instagram.
Birthday Frittata
INGREDIENTS
6 eggs, beaten well
Diced, browned potato pieces of one or more potatoes
2 c. diced or shredded cooked chicken
1/2 can medium heat RoTel™
1 c. shredded sharp cheddar cheese, divided in half
1/2 yellow onion, diced
1/2 c. sour cream
1 Tbsp. minced garlic
1 tsp. powdered garlic
Salt and pepper to taste
Cayenne pepper to taste
PREPARATION
> Preheat oven to 350 degrees.
> Combine all ingredients, reserving half the cheese, and fold into a prepared baking dish, preferably glass.
> Bake 45 minutes, insert fork to check doneness after 30 minutes. Continue baking until fork comes out almost clean, since the frittata will continue to cook after removal from the oven.
> Top with remaining cheese and allow to melt before serving. Garnish with parsley, cayenne, paprika, etc. A dollop of sour cream or drizzle of Hollandaise is delightful with this.
Note: Spring is the season to celebrate my first friend, my older sister Laurel. The doer who does for everyone is hard to convince to slow down long enough to let loved ones do for her for a change. However, we pulled this off recently with a nice brunch, flowers, yard art for her home in Mackay, and a good catch-up visit. She was well prepared to feed us all when we said we were coming over, but we were already on the food thing. "Mom," my daughter later told me, "I could've eaten that frittata stuff all day." My older sister, who is a fine cook and hard to get a compliment out of, created a social media post telling the world what a great dish it was. Suddenly, I felt as if it had been my birthday, too.