Coffee Cake/Turkey Cutlets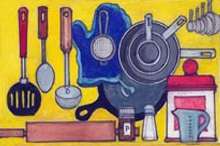 By Amy Story Larson
This month's contributor is Susan Lewis Stuck, active mother of four daughters, widowed several years ago. I ran into Susan in Idaho City last year, after many years of enjoying her well-written social media posts. She is indeed a writer. And, I learned recently, an exceptional cook. When requesting recipes to share, I found out Susan had written an entire cookbook.
Susan wrote. "Life is never dull at my house. Oh, yes! I love to cook. The challenge now is what to cook. My kids' taste buds have all changed over the years. Anyway, here is the turkey cutlet recipe I featured on my Facebook page. They are a family favorite. My girls love them, and we never have any left over.
"Real simple. We love these with my roasted potatoes. I wasn't sure about a dessert, but I thought, with the cold weather, coffee cake sounded really good. I haven't had it in a long time."
Buttermilk Coffee Cake
INGREDIENTS
2 ½ cups all-purpose flour
1 ½ cups brown sugar
½ tsp. salt
½ cup butter, margarine, or shortening
2 tsp. baking powder
½ tsp. baking soda
½ tsp. ground cinnamon
½ tsp. ground nutmeg
2 eggs, beaten
1 ½ cups buttermilk
½ cup chopped nuts
PREPARATION
> Grease bottom and sides of a 13x9x2-inch baking pan. Set aside.
> Combine flour, brown sugar, and salt. Cut in butter until the mixture resembles coarse crumbs. Set aside ½ cup.
> Stir baking powder, baking soda, cinnamon, and nutmeg into remaining crumb mixture.
> Combine eggs and buttermilk. Add egg mixture to dry mixture and mix well.
> Spoon batter into prepared pan. Stir together reserved crumb mixture and nuts. Sprinkle on top of batter.
> Bake in a 350-degree oven for 35 to 40 minutes or until a wooden toothpick inserted in center comes out clean. Serve warm.
Makes about 18 servings.
Maple Soy Turkey Cutlets
INGREDIENTS
2 Tbsp. butter
3 lb. turkey cutlets
Salt and pepper
¼ cup maple syrup
¼ cup soy sauce
Sesame seeds
PREPARATION
> Cut turkey into ¼-inch cutlets, removing any fat. Melt 2 Tbsp. butter in medium skillet. Add turkey cutlets. Season with salt and pepper. Brown for about three minutes on each side.
> Add ¼ cup maple syrup and ¼ cup soy sauce, spooning over cutlets as they cook. Continue flipping cutlets until they are golden brown and juices run clear.
> When almost done, sprinkle sesame seeds on turkey cutlets.
Serves 4-6