Cookie Balls/Baked Dip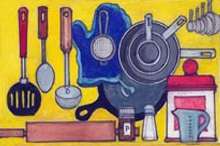 By Amy Larson
Circus Cookie Balls
INGREDIENTS
12-oz package of frosted animal cracker cookies
4 oz of cream cheese
4 squares of vanilla bark
Colored candy sprinkles
Red or pink food coloring
PREPARATION
Place cookies into a food processor and pulse to create fine crumbs. May require several batches. If no food processor available, put into a sealable plastic bag and crush.
In a bowl, mix crumbs and softened cream cheese well. Roll into small balls and place on a baking sheet covered in wax paper. Put sheet into a refrigerator for ½ hour to cool.
After balls are well cooled and ready for dipping, melt vanilla bark in a bowl in the microwave, 30 seconds at a time until it is the right dipping consistency after stirring. Set aside half of the bark and put a few drops of food coloring, for both pink and white cookie balls.
Roll balls into melted bark until covered, using forks to maneuver. Remove balls from bark, allowing excess to drip off, then replace balls onto wax paper. Garnish with sprinkles before the bark cools.
Note from Amy: Now that my kids are grown, this time of year brings back a lot of back-to-school nostalgia. The memories of Indian Summer road trips and camping. My children loved those candy-covered animal crackers with the sprinkles, which were ideal for the cooler late summer and fall months (and not so ideal for June and July, due to the melting/messy hands factor!) Each child had a favorite animal, and we sometimes doled the treats out accordingly.
This recipe is a new twist on an old favorite. Imagine having this waiting for family or friends when they walk through the door after a long school or work day!
Baked Spinach Artichoke Yogurt Dip
INGREDIENTS
Softened butter, for the baking dish
1 (14‑ounce) can artichoke hearts, drained and chopped
1 (10‑ounce) package frozen chopped spinach, thawed and squeezed dry
1 cup plain yogurt
1 cup shredded mozzarella cheese
1 cup grated Parmesan cheese
1/4 cup thinly sliced green onions, white and green parts
1 garlic clove, minced
1/4 cup chopped red bell pepper
Pita chips, tortilla chips, crackers, and/or toasted baguette slices
PREPARATION
Preheat the oven to 350°F. Butter a 1‑quart casserole dish or 9‑inch glass pie plate; set aside.
Combine the artichokes, spinach, yogurt, mozzarella, Parmesan, green onions, garlic, and bell pepper in a large bowl; mix thoroughly.
Transfer to the prepared dish. Bake for 30 to 35 minutes or until bubbling and lightly browned on top. Let stand for 5 minutes. Serve with pita chips, tortilla chips, crackers, and/or toasted baguette slices for dipping.
Recipe courtesy of dairygood.org
These recipe pages are brought to you by the Idaho Dairy Council