Cowboy Casserole/Shortbread Cookies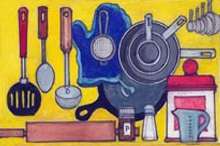 By Amy Story Larson
Goodbye Cowboy Casserole
INGREDIENTS
1 1/2 lbs. ground beef
1 (10 oz.) can fire-roasted diced tomatoes with green chilies
1 (4 oz.) can diced green chilies
1 can sweet kernel corn, well-drained
1 (1.25 oz.) packet taco seasoning
2 1/2 c. biscuit mix
1 3/4 c. sharp cheddar cheese, shredded, divided
1 red or yellow bell pepper, diced
1/2 yellow or sweet onion, diced
1 c. water or milk
1/2 c. sour cream
1/2 c. mayonnaise
1 tsp. garlic powder
salt and freshly ground pepper,
to taste (optional: crushed red pepper flakes)
PREPARATION
> Preheat oven to 350º F. Prep a 9×13-inch pan with non-stick spray.
> Set ground beef, onion and peppers in a large pan or skillet over medium-high heat, remain on heat until meat and veggies appear cooked through. Drain off grease and set aside.
> Stir in taco seasoning packet and salt and pepper,(with crushed red pepper, if desired), as needed.
> Whisk together sour cream, mayonnaise, 1 cup cheddar cheese, green chiles and garlic powder in a medium bowl.
> In a separate bowl, combine biscuit mix with 1 c. water (adding a little more water as needed) and mix together until a soft dough forms. Press dough into the bottom of prepared baking dish, then bake for 5-7 minutes, or until lightly browned.
> Take baking dish from oven and spread beef mixture over biscuit layer, then top with layer of diced tomatoes, (and/or corn, and/or black beans, if desired). Spread sour cream mixture over tomatoes, then cover with remaining cheddar cheese.
Return baking dish to oven and cook for 30 minutes, or until warmed through.
Remove from oven, serve and inhale.
Other ingredients you can add into this dish: black beans, pepper jack cheese, chopped jalapenos.
NOTE: The elongated shadows across the yard mean Fall is in full swing. Though I love the season, it means the definite end of summer. Some may feel a bit cheated this year, since the days have been either too hot or too smoky to get to play full-steam. I know I felt gypped, like the equivalent of a bad breakup that's not our fault. Melancholy can easily beset those wishing for more camping, fishing, hiking, and time spent outdoors, which means…bring on the comfort food.
Layers of cheese, meat, and even more cheese explains why this one's been dubbed "The Ultimate Comfort Food" by several recipe sites. It's also been described as "satisfying" and "beyond delicious". Originally called the "John Wayne Casserole", this recipe has been remixed and remade over and over again. I located it under "Cattle Drive Casserole", and added a few changes of my own.
*adapted from 12Tomatoes.com
Chocolate Shortbread Comfort Cookies
INGREDIENTS
2 sticks unsalted butter, at room temp
¾ c. light brown sugar
½ tsp. salt
1 c. old fashioned or quick cooking oats
1 ½ c. all-purpose flour
4 oz. semisweet or bittersweet chocolate
(optional: pinch of cinnamon, to be dusted over top)
PREPARATION
> Preheat oven to 350 degrees. Line an 8 inch by 8 inch square baking pan with parchment paper or foil, leaving some hanging over the sides.
> Put all ingredients but the chocolate into a food processor bowl, process all until a softness and sticky dough is created.
> Press that dough evenly into the prepared pan. Bake for approximately 25 minutes, or until a light golden brown to set. Let recipe cool completely before removing sheet of shortbread from pan.
> Cut into squares with a large, sharp knife, and then cut each square into fun little triangles.
> Microwave the chocolate in a microwave safe bowl for 45 seconds. Stir, and keep heating it up in 30-second intervals until the chocolate is melted and smooth.
> Dip each triangle cookie into the chocolate, let extra drip off.
> Place on a parchment paper-lined baking sheet and allow chocolate to harden before you serve or store it.
These scrumptious cookies will last in an airtight container for up to 5 days.
NOTE: It's everything good. Dancing to Abba, rooftop serenades, riding in a Mustang while singing along to classic rock. Friday night football games where you yell your voice hoarse, walks through the neighborhood to the edge that bumps up to the farmer's field, just in time to watch the lingering sunset. Take a bite of these, and see if you don't agree.
*adapted from handletheheat.com, originally named "Chocolate Dipped Shortbread Cookies"