Crock Pot Stuffing/FudgeNog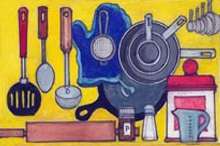 By Amy Larson
Bacon Crock Pot Stuffing
INGREDIENTS
10-12 cups day old bread cubed
10-12 slices lower sodium hardwood smoked bacon, cooked and crumbled
3 cups chicken stock
2 1/2 cups chopped yellow onion
2 eggs, lightly beaten
1/2 cup light butter
1/4 cup chopped fresh parsley
2 teaspoons ground sage
1 teaspoon poultry seasoning
1/2 teaspoon black pepper
PREPARATION
Place butter in a saucepan and melt over medium heat. Stir in onions, cooking until softened.
Place bread into a large  bowl. Add bacon, sage, poultry seasoning, parsley, and pepper. Add chicken stock, being sure to cover all of the bread. Add eggs and onions, along with the butter. Mix well.
Place all ingredients in a large crock pot, cover, and set on HIGH for 10 minutes, reducing to low for another 2 1/2 hours.
You may want to stir the mixture once during cooking time.
Note: Also called "dressing", this dish hails from as far back as the Roman Empire, and various forms of the originals can be found around the globe. Before the sixteenth century in England, the dish was known as "farce". Thankfully, Victorian England used the term "dressing", but the terms "dressing" and "stuffing" are now interchangeable. A good thing, because "turkey with farce" doesn't sound nearly as palatable.
FudgeNog
INGREDIENTS
3/4 c. eggnog
1/2 c. sweet creamery butter
2 c. suga
2 c. white chocolate chips or vanilla bark equivalent
1- 7 oz. jar of marshmallow creme
2 Tsp. Mexican vanilla extract
1/2 tsp. nutmeg
PREPARATION
Foil line a 9" x 9" baking pan, then coat interior with butter-flavored cooking spray.
Place butter, sugar, and eggnog in a medium pan and bring to a boil. Cook through until temps reach 234 degrees, candy stage. It is recommended that you use a candy thermometer.
After removing from heat, melt in the white chocolate morsels, then add marshmallow creme, vanilla, and nutmeg.
Spread into previously prepped pan, and garnish with more nutmeg or colored sprinkles for the Holidays.
Note: Makes up to 24 squares.
Don't you ever wonder who got to staring at an egg with the thought, "Wow, this would make a great drink" ? Formerly called "egg milk punch", the sweet, creamy whipped egg mixture known as egg nog has become a holiday season favorite, although I know several individuals who could drink it all year. Its fudgy twin makes a great gift, and only takes about 15 minutes to make.
These recipe pages are brought to you by the Idaho Dairy Council