Cucumber Salad/Corn and Halloumi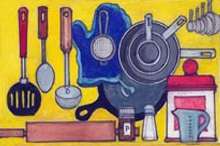 By Amy Story
Cucumber Sesame Salad
INGREDIENTS
2 medium-sized cucumbers
1/2 tsp. salt
2 tsp. toasted dark sesame oil
2 Tbsp. seasoned rice vinegar
6 basil leaves, thinly sliced
1/2 tsp. red chili flakes
minced garlic to taste, optional
2 tsp. toasted sesame seeds
PREPARATION OF FILLING
> Mix salt, sesame oil, rice vinegar, basil, chili flakes, garlic and sesame seeds in a bowl.
> Peel and cut cucumbers lengthwise, and then into quarters. Create 1/2 inch thick pieces and place in the bowl with the mixture.
Enjoy!
Grilled Corn and Halloumi
INGREDIENTS
6 ears sweet corn
olive oil
kosher salt
black pepper
one package Halloumi cheese
1-2 freshly diced avocados
cilantro to taste
lime juice
PREPARATION
> Prep corn, brush with olive oil, and then sprinkle with salt/pepper.
> Grill 10-15 minutes turning every five, and then remove.
> When cooled enough, cut corn off the cob.
> Slice the Halloumi and grill each side for 5-10 minutes or until grill marks appear.
> Dice the Halloumi, combine corn/cheese mixture, add diced avocados, fresh cilantro, lime juice, and black pepper.