Daddy's Chicken Parmigiana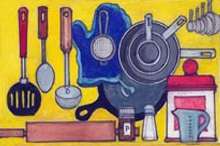 By Amy Story Larson
I first came across food lover and cook Pamala Cooper while she was painting a mural on her fence in Nampa. I love to meet people who put so much heart into things. She dedicates the following recipe to her father. Here's what Pamala says about it:
My passion and love language is cooking. I enjoy making a recipe one of a kind by putting my own spin on the flavors and colors of food. This is how I express love of life to others. I am passionate about bringing my family together in conversations and laughter around the meals I prepare. I think there is something unique in all of my dishes, which are created around special people in my life. My dad, Terry, provided the passion behind my rendition of Chicken Parmigiana, and the lighting up of his eyes and smile on his face when I serve this dish keep the flame burning.
Old World Marinara Sauce (for Chicken Parmigiana)
INGREDIENTS
1 medium-sized Vidalia onion, chopped
1 green bell pepper (small) finely chopped
6 medium-sized fresh portabella mushrooms, finely chopped
½ c. lightly packed dark brown sugar
8 fresh garlic cloves, finely chopped
2 tsp. kosher salt
2 tsp. fresh ground peppercorn pepper
1/3 c. extra virgin olive oil
4-28 oz. cans Cento™ whole peeled San Marzano tomatoes
2-28 oz. cans Cento™ crushed San Marzano tomatoes
1 c. carrot, finely shredded
2 tsp. crushed red pepper flakes
4 Tbsp. fresh basil
3 Tbsp. fresh oregano
1 tsp. fresh thyme
PREPARATION
> Combine Vidalia onion, green bell pepper, portabella mushrooms, dark brown sugar, garlic, kosher salt, and peppercorn pepper in a stainless steel bowl and mix gently. Set aside.
> In large stock pot, heat extra virgin olive oil on low to medium heat. Pour the onion and portabella mixture into pan and simmer on low for 35-45 minutes. stirring frequently with a wooden spoon (more authentic).
> Add all cans of tomatoes, carrots, and crushed red pepper flakes. Let simmer extremely low, stirring occasionally for a minimum of 1.5 hours.
> Gently stir in basil, oregano, thyme, and cinnamon. Let simmer for 30 minutes maximum. Fresh spices should be added in the very last 30 minutes regardless of how long you simmer your mixture in the previous step.
> Using an emulsifier, blend marinara mixture, being very careful as it will be extremely hot. Blend to preferred consistency.
Chicken Parmigiana
INGREDIENTS
3 whole boneless skinless chicken breasts, sliced in half width-wise
2 c. panko crumbs
2 c. Italian seasoned bread crumbs
3 eggs
2 c. flour
1 Tbsp. kosher salt
Peppercorn pepper to taste, freshly ground
Canola oil as needed
6 large slices mozzarella cheese
Marinara sauce (from preceding page)
1 ½ cups 24-month aged Parmigiano-Reggiano cheese
1 c. chopped fresh Italian parsley
1 lb. Barilla™ spaghetti noodles
PREPARATION
> Place chicken breast pieces between 2 pieces of plastic wrap or in a Ziploc™ bag. Pound with a rolling pin or flat side of a meat hammer until chicken is 1/2 inch thick. Place on flat surface and sprinkle all pieces with kosher salt and freshly ground peppercorn pepper.
> Set up 3 bowls: 1 for whisked eggs, 1 for flour, and 1 for panko and Italian bread crumbs mixed together. Set aside close to stove top.
> Heat about ¼ inch-deep of canola oil in a large skillet. Flour each piece of chicken on both sides, then coat in egg, then in panko/breadcrumb mixture, being sure to firmly press mixture to both sides of chicken so there is a nice coating. Lay chicken in heated oil and brown both sides, about 2-3 minutes per side. Place chicken on rack or paper towels to drip or absorb extra oil.
> Lightly spray the bottom of a large cookie sheet with nonstick spray (unless you use a nonstick pan). With a metal spoon, spread a thin layer of marinara sauce and place a piece of chicken on top of each layered area. There is no need to layer marinara over entire surface of pan. On each piece of chicken, lay a piece of mozzarella and spoon another small amount of marinara on top of mozzarella.
> Place chicken in 425-degree preheated oven and bake for 13-15 minutes. Pull from oven, sprinkle with grated mozzarella and Parmigiano-Reggiano and broil on high for 1 minute. Do not over-broil.
> In large pot, fill with water, 2 Tbsp. canola oil and bring to boil. Add Barilla spaghetti and cook to al dente, which is about 7-9 minutes. True test is to toss a single piece onto kitchen wall and if it sticks, it is done. Strain and rinse with hot water.
> Plate al dente cooked spaghetti, topped with marinara, topped with a piece of chicken. Sprinkle with fresh Italian parsley and additional Parmigiano-Reggiano.
NOTE: This dish goes well with tossed green salad and fresh-baked Italian garlic bread topped with quartered marinated artichoke hearts, sundried tomato, and mozzarella. I serve a side of olive oil and balsamic vinegar for bread dipping. And for me, nothing finishes off an Italian meal like a small shot of limoncello. Buon appetito!