December 2020 Calendar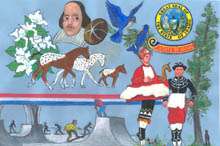 By Les Tanner
Many cancellations or changes in Idaho events have occurred over recent months because of concerns about COVID-19. Indeed, so few events are scheduled for January 2021 that we will suspend publication of the Calendar at least for that month. We will resume as soon as enough events are scheduled to justify the Calendar. Meanwhile, double-checking with event coordinators about the following locations, dates, and times is highly recommended.
Northern Idaho
4 Chamber of Commerce Christmas Light Parade, Kamiah
4-5,11-12 Home Town Retro Christmas: Come to Wallace the first two weekends in December for our Retro Christmas Festival. Enjoy an old-fashioned holiday season in a historic setting with a host of fun family-oriented activities, parades, unique shopping experiences and hundreds of old fashioned lighted blow-molds, Wallace
5 Upper River Youth Leadership Council
"Old Fashioned Christmas", Kamiah
5 Festival of Trees, Pierce
5 River Front Park Christmas Lighting; Kamiah
5 Nez Perce National Historical Park Beadwork Bazaar; Nez Perce
5 Annual Lights Parade and Christmas Tree Lighting Ceremony, Hayden
25 Baked Potato Bar Dinner Fundraiser: 6 PM, Lake City Center, Coeur d'Alene
31 New Year's Eve Pow Wow, Kamiah
Southwestern Idaho
1-18 Giving Tree: Gift tags are hung around the tree that list the Women' and Children's Alliance's facility and child care needs. The Grove, Boise
1-31 Downtown Holiday Tree: Presented by Idaho Central Credit Union. The Grove, Boise.
1 Homeschool Day – Wiggly Worms: Just because the plants aren't growing aboveground doesn't mean there isn't a lot happening underground in the winter! Explore the role of worms and other microinvertebrates in creating the healthy soil plants will need come spring. (Ages 6-12). 1 – 2:30 PM. Boise Urban Garden School, 2995 N Five Mile Rd, Boise
2-27 Winter Gardens Aglow: Wed-Sun. 6 – 9:30 PM. Idaho Botanical Garden. Space is limited to ensure room for social-distancing. Limited one-hour timed ticketing blocks available every thirty minutes, and tickets will be limited. Check this site for details. idahobotanicalgarden.org/events/wintergardenaglow; Boise
2-32 Granger Quilting Guild Holiday Bazaar: VARIOUS DAYS. Visit the Holiday vendors you know and trust from your home at Facebook Marketplace under "Granger Quilting Guild Holiday Bazaar". View photos/ description of offerings, then go to their site to purchase. Boise
3,17 On-Line Trivia Night: For Singles, Couples or Pairs. With your spouse, friend, parent, partner or person of choice, join us for a laid back, fun night of trivia via Zoom! Registrations open at 7 PM. Public Library, Nampa
4-5 Christmas Bazaar: 9 AM, United Methodist Church, Emmett
4-5 Christmas World Market: Home Decor, dolls, wall hangings, small quilts, hand-made ornaments, wood products depicting wild life and western decor, hand-made serving boards, trays, foot stools from exotic woods, ribbon art, colorful cloth shopping bags, hand woven scarves, to baked goods and more. 1050 Cascade Rd, Emmett
5 Train Depot Open House: Noon, Caldwell
6 Choir Concert, Weiser
15 Band Concert, Weiser
17 Downtown Get Down: 6 – 9 PM , Indian Creek Plaza, Caldwell
19 Boise Philharmonic–Home for the Holidays: Virtual event. boisephil.org/event/holidays. 7 PM, Boise
Southern Idaho
1-17 Art After School: TUESDAYS and THURSDAYS. A series featuring fine art and craft classes including painting, printmaking, and mixed media worthy of hanging. Classes are Tuesdays from 4 – 5 PM for students in grades 1st through 3rd and Thursdays from 4:30 – 5:30 PM for students in grades 4th through 6th. Classes will be at the Twin Falls Center for the Arts. The cost is $6 per class for Magic Valley Arts Council Members and $8 per class for Not-Yet Members. For more information or to register, call the Magic Valley Arts Council at 208.734.2787. Twin Falls
5 Magic Valley Trail Enhancement Committee's Santa Run: A great way to keep active during the holidays. Choose from a 5k run or walk. Twin Falls
Eastern Idaho
9 Customer Appreciation Day: Lava wants to say thank you to their customers with free admission to the Hot Pools, all day. Lava Hot Springs
16 Experience the Mission: A Virtual Open House. Hear firsthand from the team about what it is that makes being a part of the Red Cross mission so special! 6 – 6:30 PM. Event website: redcross.org/volunteer. Idaho Falls