Disaster at Birch Creek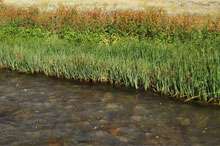 A Little-Known Skirmish in 1877
By Terry Armstrong with Cheryl Reed-Dudley
During the early 1960s, the Idaho Academy of Science, then in its fledgling years, successfully secured a grant from the National Science Foundation. The grant provided travel and honoraria to scientists to visit Idaho high school science teachers and their students.
A science teacher and basketball coach in Salmon at the time, I was successful in securing three scientists to spend a day each with my students. These scientists were Ray J. Davis, professor of botany at Idaho State University (1960-61), Edson Fichter, professor of zoology at Idaho State University (1961-62), and Earl J. Larrison, a renowned natural historian from the University of Idaho (1963-64).
Davis was the author of the book Flora of Idaho, published in 1952, which remains as a thorough treatise of Idaho's 102 plant families and thousands of genera. He was a fine teacher. I recall that he ate lunch at our home during his visit to the Salmon school. I recall that I had found a saprophyte I had frozen and was pleased to show him.
I discovered that Davis was to stay in Salmon for a ride home to Pocatello on Saturday, the next day. The other basketball coaches and I had a game at Shelley on Friday and Davis willingly agreed to ride the team bus with us there, where he would meet his wife. The trip turned out to be an amazing five-hour lesson on Idaho natural history.