Down the Salmon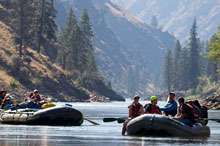 Under the Sun and Stars
Story and Photos by Linda Lantzy
In less than thirty-six hours I'll be floating the mighty Salmon "River of No Return." Contained completely within Idaho, this 425-mile-long river begins as a trickle in the Sawtooth Mountains, winding its way north through steep canyons and fertile farmlands before diving west across the rugged, roadless interior of the state.
After we launch our rafts into this eighty-one-mile stretch of isolated water, there will be no going back. Even in mid-July, following a banner snow year, the flow is still running a mighty 15,600 cfs. There will be rapids . . . lots of rapids.
I came upon this spectacular rafting adventure as a perk for being sponsored by the American River Touring Association as the 2017 Artist in Residence for the Idaho Conservation League. My job on this trip is to take photos, which I'm used to doing but not from a raft or a riverside camp with myriad people milling about. I hope I can find the solitude I seek on this wilderness journey.
Preparations started months ago, and I've slowly been accumulating gear into what became a very large pile on my kitchen table in Coeur d'Alene: everything from a protective case for my camera gear to the proper polyester blends of clothing for life on the river. Hotel rooms were booked for the front and back of the trip, as was a flight from McCall to Salmon on a ten-seat, single-prop plane. The flight alone seems to me like a good reason to rethink this entire undertaking.
It's the last night in my own bed for the next nine days. I lie awake into the wee hours of the morning, listening to the occasional vehicle travel past my window. My mind swirls with thoughts of what lies ahead.