Eggs Benedict Casserole/Poppyseed Pancakes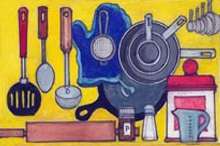 By Amy Story Larson
Eggs Benedict Casserole
INGREDIENTS
6 English muffins
12 oz. Canadian bacon, chopped
8 eggs
2 c. heavy whipping cream
1/2 tsp. onion powder
1/2 tsp. garlic powder
salt and pepper to taste
1/4 tsp. paprika
SAUCE INGREDIENTS
4 egg yolks
1/2 c. heavy whipping cream
2 Tbsp. lemon or lime juice
1 tsp. Dijon mustard
1/2 c. butter, melted
PREPARATION
> Halve muffins and chop into one-inch pieces. Spread pieces on ungreased baking sheet and broil for 1-2 minutes, or until toasty on top. Turn the bread pieces over, then broil for another minute or two.
> Place half of the Canadian bacon in greased 9×13 baking dish; top with broiled English muffins, then remaining bacon. In a large bowl, whisk eggs, milk, onion/garlic powders, and salt and pepper to taste; pour evenly over the top. Cover and refrigerate overnight.
> Remove from refrigerator 30 minutes before baking. Sprinkle with paprika. Cover and bake at 375° for 35 minutes. Uncover; bake 10-15 minutes longer or until the center is set.
> In a double boiler or metal bowl over simmering water, constantly whisk egg yolks, cream, lemon juice and mustard until mixture reaches 160° or is thick enough to coat the back of a spoon. Reduce heat to low. Slowly drizzle in warm melted butter, whisking constantly. Serve immediately with casserole. You can drizzle it over the whole pan or portion the sauce on each plate.
*adaptation of recipe found at thefoodcharlatan.com
Lemon Poppyseed Pancakes
CRUST INGREDIENTS
2 c. all-purpose flour
1 tsp. baking powder
1/2 tsp. baking soda
1/4 c. granulated sugar
Pinch salt
1/3 c. poppy seeds
2 Tbsp. lemon and/or lime zest (from about 2 medium lemons)
2 c. buttermilk or heavy whipping cream
2 large eggs
2 Tbsp. butter, melted, plus more for frying
GLAZE INGREDIENTS
6 Tbsp. powdered sugar
2 Tbsp. fresh lemon juice
Fresh blueberries strawberries, raspberries or other berries for serving, if desired.
PREPARATION
> In large bowl combine flour, baking powder, baking soda, sugar, and salt.
In small bowl or measuring cup combine poppy seeds, lemon zest, buttermilk, eggs, and butter. Add to flour mixture and stir until combined.
> Heat skillet or griddle over medium-high heat. Add pat of butter and get hot before dropping the batter by 1/3-cup spoonfuls into the skillet. Cook until pancakes are cooked through and golden. 3-ish minutes per side. Repeat with remaining batter.
> If not serving pancakes right away, keep warm on a baking sheet in a 200°F oven.
GLAZE PREPARATION
> Meanwhile, use fork to whisk together sugar and lemon juice until smooth. Add more sugar for a thicker glaze and more lemon juice for a thinner glaze.
> Optional: add in a splash of either almond or vanilla extract.
> Divide pancakes among plates and drizzle with glaze. Top with fresh berries, if desired, before serving.
*adaptation of recipe found at handletheheat.com