Elote/Horchata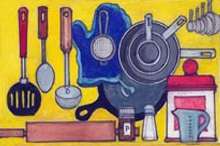 By Amy Larson
Elote: Mexican Grilled Street Corn
INGREDIENTS
1/4 cup mayonnaise
1 tsp. finely grated lime zest
1/4 tsp. Mexican chili powder
Kosher salt
2-1/2 oz. queso anejo, Cotija, or ½ c crumbled feta cheese.
4 ears corn, shucked
PREPARATION
Prepare a medium-high (400°F to 475°F) charcoal or gas grill fire for direct grilling.
Combine lime zest, chili powder, mayonnaise, and ¼ tsp. salt. Spread cheese onto a plate large enough to roll corn ears on.
Grill corn for approximately 7-8 minutes until still crispy-yet-tender, with some charring here and there. Once achieved, generously slather ears of corn with the mayonnaise mixture, and then press and roll into the cheese plate, sprinkling remaining cheese on top.
Note from Amy: Elote is a popular Mexican street food, generally presented on a stick or a handle of the pulled-down husks. Chili powder, fresh butter, shredded cheese, lemon or lime juice, mayonnaise, crema (sour cream) and salt are popular additions. If cut from the cob and served in bowls, "elote" turns into "esquites".
Homemade Horchata
INGREDIENTS
1 c. uncooked white rice
3 c. warm water
2½ c. low-fat milk
2 tsp. vanilla extract
2 tsp. cinnamon
2/3 cup white sugar
PREPARATION
Blend rice and warm water together in a blender; transfer to reseal-able bag. Allow to sit at room temp for 3 hours.
After that time, strain rice with a fine mesh sieve. Combine the rice water with milk, vanilla, cinnamon, and sugar.
Add crushed or cubed ice, and it's ready to serve and enjoy. Can be made up to one week in advance if stored in an airtight container in the refrigerator.
Also perfect for dunking homemade cookies into, stirred into oatmeal in the mornings, or over dry cereal.
Note from Amy: The kids and I love to swing by the nearest taco truck for iced horchatas in the summertime. Discovering we could make them at home seemed almost too good to be true. It's the ultimate summer comfort drink.