Framed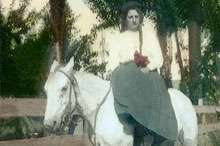 A Settler's Life Marred
By Esther Barnett Goffinet
Photos Courtesy of Esther Barnett Goffinet
As a homesteader on Joseph Plains and Doumeq, south of Cottonwood, my father's life was very hard, yet it was not nearly as difficult as what was to come.
For most people, scarce jobs, the death of a baby, and almost being killed in an avalanche would be trouble enough, but then my father, Eugene Barnett, was framed and convicted of first degree murder and sent to prison to serve from twenty-five to forty years. In 2011, I achieved a lifelong goal by publishing a book that tells the true story of this tragedy and its aftermath.
Born in the mountains of North Carolina to poor sharecroppers, Gene was the oldest of eight children. At age seven, he was sent to work in the coal mines to help support the family. In 1910, Gene worked his way west and his large family soon followed. In Idaho, he and my grandfather helped to build the original White Bird Grade and later the original Spiral Highway near Lewiston. Gene married a Cottonwood girl, and his three sisters married boys from Doumeq.