Fried Ice Cream/Tailgating Dip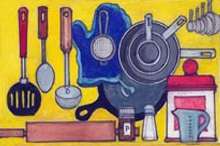 By Amy Story
Meredith's Fried Ice Cream
INGREDIENTS
1 quart vanilla ice cream
2-1/2 cups corn flakes, coarsely crushed
1 Tbsp. melted butter
2 Tbsp. sugar
1 tsp. cinnamon
PREPARATION
> Line a rimmed baking sheet with wax paper. Set eight ice cream balls on the sheet and freeze for an hour.
> Preheat oven to 350 degrees. Spray another baking sheet with cooking spray.
> In medium bowl, combine remaining ingredients and spread onto sheet, bake in oven until lightly browned. Remove to a shallow dish and cool completely.
> Line one more baking sheet, placing ice cream balls rolled in mixture onto the new sheet.
> Freeze once more for 2-3 hours.
This can be served with strawberry syrup and a festive spray of whipped cream all around it, with a sprinkling of cinnamon or colorful sprinkles.
Note: Meredith Hundersmarck has been a longtime friend and was a neighbor back in the early 2000s. I hadn't seen her in maybe ten years when I walked into a grocery store and there she was, still incredibly youthful after raising lots of sons. It seemed like a lifetime ago, and because of the gap in time I hesitated. But when Meredith spotted me, she took me into a big hug. You don't forget people like that. A few days ago, a mutual friend of ours posted a "saved the day" recipe that was from none other than Meredith, found in an old church recipe book. Seeing her name took me back to the warmth of our grocery store encounter, our family-raising years, and a place in time to be counted as sweet.
Loaded Tailgating Dip
INGREDIENTS
1 bag crinkle-cut fries
8 oz. cream cheese
1/2 c. sour cream
2 c. extra sharp cheddar cheese
8 thick, fried bacon slices, chopped
1/2 c. chives, minced
PREPARATION
> Preheat oven to 425°F. Place frozen potatoes in single layer on baking sheet lined with parchment paper. Bake 18-20 minutes or until crispy. Partway through cooking time, stir to promote even baking.
> If using an air fryer, preheat to 360°F. Fill the air fryer's basket with half the frozen potatoes. Cook 12-13 minutes. Take out basket halfway through cooking time and shake.
> In medium bowl, mix cream cheese, sour cream, cheddar cheese and fried bacon until ingredients have blended well together. Top with chives.
Serve chilled with the fries for scrumptious dipping!
Note: "Hamburger Bill," as the grandkids call him (it's honestly still a mystery as to why), and I tend to keep fries or tots on hand during visits. Whenever we provide a lavish meal for the adults that the kids are sure to say a resounding "yuck" to, fries and/or tots have saved the day. Surprisingly, whenever we made accompanying dips that we thought were more geared toward the grownups, we discovered (sometimes the hard way) that the wee ones enjoyed dipping things, too.