Good Work

"Solving for Pattern"
By Maija Baehr
This story is offered free in its entirety for the first part of April.
Sitting as tall as I could, I bounced my knees up and down nervously as I watched the wilderness whiz past. We had left McCall Airstrip—three others and I, all volunteers with the Idaho Trails Association (ITA)—for a week in the heart of the Frank Church–River of No Return Wilderness: RONR to use the official acronym, but lovingly called "the Frank" by many who have enjoyed some of its nearly 2.4 million acres of wilderness.
RONR is both the second largest unit of the National Wilderness Preservation System and the largest contiguous wilderness unit in the Lower 48. Bordering the RONR Wilderness to the north lies the Selway–Bitterroot Wilderness, and to the northwest is the Gospel Hump Wilderness. Combined, these three wilderness areas make up approximately 3.9 million acres of some of the most expansive, pristine nature to be found anywhere in the United States. We Idahoans are immensely lucky to have such immediate access to this wilderness.
I was seated in the rear of the plane next to our packs and all the supplies we would need for the week. Stealing a moment from my gawking at the beauty flying by, I shoved the sick bag from the seat in front of me into my pack, within arm's reach. Though I was certain I wasn't going to use it for its intended purpose, I realized just then that I had forgotten a critical piece of gear, something I had decided I needed based on my first ITA volunteer trip to the Gospel Hump Wilderness the prior year.
We landed at Chamberlain Basin Airstrip, and for minutes after the pilot departed, the sound waves produced by the propellers bounced and echoed off the mountains that surrounded us, providing a long, drawn-out reminder that we were on our own now. Before I could even begin to consider the vastness around me, we were on the trail.
The plan was to make our way from Chamberlain Basin across Ramey Ridge over the course of five days, ending at Big Creek Airstrip, to be returned to civilization the same way we had departed it, via fixed-wing airplane. The purpose of such a once-in-a-lifetime experience was to assess the usability of the trail as it was mapped, and to conduct any trail maintenance we could. Before departing McCall, we had been warned that the USFS hadn't been able to conduct any trail monitoring or maintenance on Ramey Ridge for the past few years. We didn't know what trail conditions to expect or where the more challenging sections might be.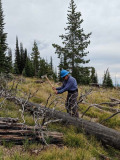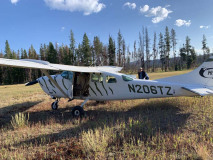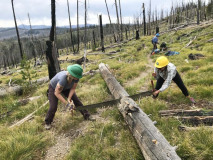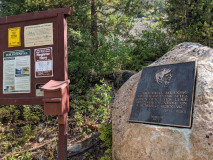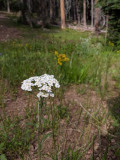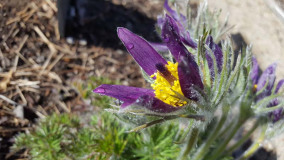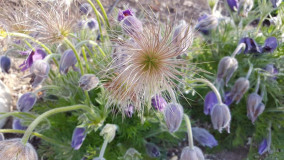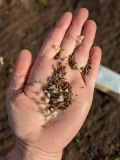 The default mindset on the trail is "one step at a time"—which I realized was especially valuable with the ITA, when you can find yourself on an overwhelmingly isolated, only-accessible-by-plane, "I signed up for this?" kind of trip. Fully exposed to the sun, we made our way up and into the wilderness. Even though it was well before noon, we could tell today's miles were going to be hot.
We plugged along slowly at first, taking frequent breaks to slow our breath and to fine-tune the cinch straps on our packs. Before even completing one mile, I paused to take a sip of water and glanced up from the trail at the most incredible hillside, absolutely covered in lupine. I patted myself on the back for my last-minute decision to bring the sick bag. We were baking in the mid-August sun and far too late to see the hill in full bloom. Rather, it was the perfect time to collect a seed pod. I pulled out the sick bag and dropped two seed pods into it. Although it wasn't the hard container I hoped to have, it would do in a pinch.
The timed mechanisms plants employ to reproduce through seed absolutely fascinate me. Take plant species within the genus Lupinus, for example. After being pollinated, the seed pods will ripen under the late-summer sun. As the pod dries, it prepares to burst open with such force that the seeds can sow up to five feet from their parent plant! Perhaps you understand now why I was so thrilled to see a hillside full of dried vegetation. The seed pods were perfectly ripe but many were still intact. I had the chance to capture a bit of Idaho's wilderness to take back to my garden in the Treasure Valley. The parent plant from which I chose to harvest had overtaken so much of the trail, it was no challenge to collect pods without a side-step.
"Take only pictures and leave only footprints." Preserving our pristine wilderness requires that we all diligently observe this Leave No Trace principle. So, when collecting native specimens, I am further guided by three principles. First, imagine how long it would take to turn a forest or pasture into a desert if everyone felt compelled to dig up specimens for their own backyard. Second, if you want to grow a plant you've admired in its native state, take cuttings from healthy, full-grown specimens. Or gather seeds in the smallest quantity possible after they have bloomed. Third, never collect what you cannot reach by keeping both feet on the trail. By the end of our week in the Frank, two lonely lupine pods were the only seeds I collected, as the trail work quickly became our singular focus.
A week of trail monitoring and maintenance in the heart of Idaho's wilderness is exactly as challenging and rewarding as it sounds. The miles are earned as you clear your own path along a trail roadblocked by trees that were knocked down in a storm or just fell with bad aim in old age. The work is slow, as the team employs a crosscut saw while others scatter with hand loppers, attempting to clear the trail to at least six feet wide to accommodate a horse pack. Remember, we were in a designated Federal Wilderness Protection Area, which is strictly non-motorized. No cars, no UTVs (utility task vehicles), no chainsaws. And yet, spending any amount of time in the Idaho wilderness infects you with a disease whose primary symptom is "unrelenting desire to conserve." There truly is so much beauty worthy of celebrating in our metaphorical and literal backyards.
In Wendell Berry's 1992 essay, "Conservation Is Good Work," he writes that to solve ecological problems, one must realize it is "not work merely for so-called environmental organizations and agencies, but also for individuals, families, and local communities." There is work for each of us to do, but it requires a voluntary mindset. Fundamentally, I do not believe one can "own" the work of nature, like seed production. What one can do, though, is be a steward.
We've known about the decline of pollinator populations and species diversity for years now, and we continue to learn about the consequences of this threat to our sustainability. This problem is complex. United States agriculture still relies on the honeybee to deliver high quality pollination to yield of much of the produce available, from wherever you buy it. Findings by a Penn State research team published in February 2021 show that according to 2012 data (the most recent year available), thirty-four billion dollars of the country's agricultural output depends on honeybees. The Penn State paper says this was "much higher than previously thought." Planting for the pollinators, then, is the natural thing to do, but complex problems require complex solutions.
I frequently think back to a post I saw on social media a few years ago, where a sweet friend offered a word of caution to anyone eager to help save the bees. "Beware of those generic 'pollinator garden' wildflower mixes you might see! A lot of them have species that out-compete native plants, causing more harm than good in the long run." This is a real-world example of a situation described, again, by conservationist Wendell Berry.
In a 1981 essay, Berry describes designing a solution to an ecological problem that results in unintended consequences, as he says, a "ramifying series of new problems." Once introduced, these new problems are not solvable by the expertise that produced the initial solution. To avoid this, according to Berry, one must "solve for pattern." This requires that biological solutions take into consideration everything involved in the same interlocking pattern. This made me think: if a generic pollinator garden mix wasn't a solution for pattern, then how could I plant for the bees without creating a series of unintended consequences?
Afflicted by the unrelenting desire to conserve after my first ITA trip, in the fall of 2018 I began learning everything possible about pollinator gardening and Idaho native plants. I had no plan to take action beyond my own lot, but I wasn't ready to give up on planting my garden for the pollinators. I learned that to start, a pollinator garden should produce pollen, nectar, and habitat for regional birds, bees, and insects. To adequately support local pollinators, something should be in bloom from early spring through late fall. If planting with a seed blend, it should be made up of varieties that would seed freely but not prolifically, and varieties that would require little water or attention to thrive once established. Because native plants are already regionally adapted, I learned this last requirement would likely be the easiest to satisfy.
By the fall of 2019, I had celebrated a few native plant wins in my own garden, and yet the niggling at the back of my mind of "less grass, more native plants" grew only louder. I defined my goals: to support more pollinators and solve for pattern by creating a beautiful and effective pollinator garden for the Treasure Valley. It didn't take me long to realize this may be a solution that others were looking for, too. I was ready to encourage others to take a chance on native plants—with seeds. Sowing seeds is often the least expensive and least labor-intensive way to transform a landscape.
The first commitment I made was that any solution I implemented must be as local as possible. I compiled my first year of research and observations to make sure I addressed questions like, "When during the year might there be an inadequate supply of pollen or nectar for regional pollinators?" Once I had outlined the functionality of the seed blend, I focused on the attractiveness of the flowers for the human admirers in addition to the pollinators.
Native plants are too often overlooked for their showier, more dramatic cultivars. I wanted to highlight that native plants are just as beautiful and worthy of a front-row spot in our gardens. One example is the pasqueflower, which often pokes its first few leaves up while there's snow on the ground, offering early blooms when others are scarce. After pollination, its striking, plume-like seed heads dance in the spring breeze. Or the Payette penstemon, which was first collected in the Payette National Forest of central Idaho. Like many penstemons, Payette penstemon is stunning in the natural landscape but is rarely successfully transplanted. This is common of many native plants, and it only reinforced my desire to create a native wildflower seed blend.
The final hurdle was sourcing the actual seed. Collecting seed from native plants should be done sparingly, not in quantities that can provide bulk supply for a seed packet. Overharvesting of native seed would be the quickest way to undo any effort I made to sow them elsewhere. Was there a way to increase the supply of native plants to the region without requiring more of the Earth than had already been produced?
Aside from responsible cultivation, packing seeds is not as simple as collecting, packaging, and sowing. Seeds need to be clean, free of chaff, and should have high germination rates. They should be pure, and one should know the source of the parent plant, especially when using the word "native." How, then, to introduce such a solution to the Treasure Valley without creating a ramifying set of new problems, no longer solvable by my expertise?
I turned to Western Native Seed Company, a bulk supplier with more than twenty years' experience in collecting, cultivating, and providing high-quality native seeds to western landscapes. The company supplies seeds for large plantings along highways and other "wildlife corridors" throughout the Intermountain West. For months, I worked with them to fine-tune my "Boise Wild" seed blend, to create a product I thought would meet the requirements I had laid out concerning support for pollinators and solving for pattern.
After almost two years of development, I hand-delivered nearly fifty native seed packets to trusted neighbors throughout the Treasure Valley, who themselves were afflicted with the unrelenting desire to conserve. With proper stewardship, these seeds will proliferate into approximately one thousand square feet of pollinator paradise by the end of this year. For those with smaller lots, one seed packet will produce more than enough to be able to share freely with neighbors in just a few years' time.
Still, I hesitate to declare this to have "solved for pattern." In order to truly achieve my goal, the ideal is to cultivate and collect all the seeds in the Treasure Valley, in bulk supply, to repopulate as much vacant land as possible with native plants. A daunting goal, yes, but while much continues to change in our world, one constant that remains is: conservation is still good work.