Grilled Cheese/Soda Pop Ice Cream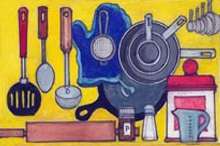 By Amy Larson
Zippy Grilled Cheese
Ingredients
1 box of cream cheese, melted
Eight slices of thick sliced buttermilk or other bread
4 Tbsp. butter, softened for spreading
12 slices of thick cut maple style bacon
2 c. shredded sharp cheddar cheese
Sprinkle of cayenne pepper to taste
Garlic powder to taste
2 fresh jalapenos, seeded and diced
Preparation
Cook slices of bacon and set aside on paper towel. Seed and dice jalapenos, sauté in bacon drippings and set aside. Place cream cheese in a microwaveable bowl and cover with a napkin or paper towel, heat for one minute to soften. Stir cream cheese after heating, then add in sautéed jalapenos and add garlic to taste.
Butter one side of bread slices, then spread cream cheese mixture into the center, topped with cheddar cheese and three slices of bacon each. Form into a sandwich and place in a large pan on medium heat until bread is grilled and cheese is melted.
Cut in half and eat while toasty hot.
Note: My "adopted" brother Jari Vesterinen got me hooked on jalapeno poppers back in the early 1990s. Something about the heat and cheese-filled goodness said festive and happy and "all is well" to me. The science behind this is that jalapenos and any capsaicin-like pepper gives one a natural anti-depressant boost.
No wonder the kids and I or whatever friend I had with me went on so many late-night jalapeno popper runs. They were cheesy, crunchy, spicy life-joy fixes!
This recipe is an ode to all of those pepper parties.
Soda Pop Ice Cream
Ingredients
2 c. heavy whipping cream
1 c. soda pop of your choice
Food coloring of your choice
Preparation
In a medium bowl, whip cream until thickened. Add in soda, stir.
Add in a few drops of complimentary food coloring. Pour combination into a plastic container, secure lid, and place in freezer for 4-6 hours, then enjoy!
Note: This opens up a whole new world of ice cream possibilities! Orange cream, red cream soda cream, root beer cream, cola cream!
These recipe pages are brought to you by THE IDAHO DAIRY COUNCIL.