Harmonica Days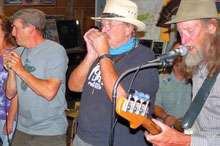 Nothing but Fun and Music . . . and Fish Tacos
Story and Photos by Cliff Cromwell
Long after I think we will crest the summit, we do, which seems to always be the case with curving backcountry roads. We reach a jagged rock edge plummeting into the southeast-facing drainage of the North Lick Creek/Secesh River that will take us to the east fork of the south fork of the Salmon River. Confused? No worries.
There's only the one road, assuring that no matter where you go, there you are, and therefore where you should be. In my experience, that logic holds true for any tributary of the Salmon River. A fire in 2007 scorched much of this landscape and the skeletal trees are eerily beautiful. We continue our descent toward Yellow Pine and the Annual Music and Harmonica Festival—their twenty-sixth, my first.
My nephew Aaron from Seattle is in the vehicle with me, on his first outing with the big boys. My three brothers, one from Boise, like me, and the other two from Seattle including Aaron's dad, lead in an SUV and we follow at a distance to avoid their dust stream. No pavement in these parts, but the road is solid and just bony enough to keep speeds at a patient pace. Earlier, after we had gone just ten of sixty miles from McCall on Payette National Forest Road 48, known also as Lick Creek Road, it arced north for the long loop around Sawtooth Peak. In time, it angled back east, tracking the narrow canyon that is Lick Creek, a picturesque stream of clear water carving its way to a confluence with the south-flowing Secesh River. The road climbed up and up. Sharp turns in the river below were punctuated by whole tree trunks piled like pixie sticks at the highwater line: evidence of a spring torrent that belied the current flow.