Homegrown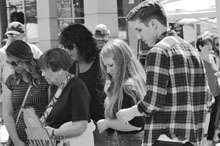 Life Lessons from the Garden
By Mary Rogers
I grow plants for many reasons: to please my eye or to please my soul, to challenge the elements or to challenge my patience, for novelty or for nostalgia, but mostly for the joy in seeing them grow.
—David Hobson, gardening writer
I grew up on the western outskirts of Boise, long before the booming economy that has arisen in the city today. I recall when the Boise Towne Square mall was built in 1988. Prior to becoming a bona fide city, before large buildings were erected, Boise was indeed known as a land of potatoes where farmers and ranchers reigned. My family owned a substantial amount of property and it was very important to my parents to teach us how to live off the land. More than a half-acre was dedicated to a bountiful garden full of vegetables: succulent corn we would pull straight from the stalk and eat with the juices running down our lips, rhubarb for making pies, okra that we pickled or fried, fresh strawberries for homemade jam. We had many mouthwatering recipes for preparing food we grew ourselves. What we couldn't eat, we canned or froze for nourishment during the winter months. Long before it was a trend, we did "farm to table" and gardened organically.
At the beginning of each spring, we began sprouting little seedlings in red plastic cups that lined our dining room table, row after perfect row. We spent days planning and mapping the entire garden, taking great care in selecting what to plant, and adjusting the layout according to sun, shade, and crop rotation.
We did our best to give the plants the right environment in which to flourish.
Next, we prepped the soil. We cleared the area, pulling any half-resurrected stalks and weeds, removing rocks and debris. Then came the truckloads of manure and compost, and the rototilling began. I learned at a young age how to keep compost during the off-seasons. We placed leftover food, egg shells, coffee grounds, and so forth in the soil and literally let the earth swallow the rot whole. To me, it felt like a spiritual process, as we gave back to the earth what we had taken—everything returning full circle.