Huckleberry Cobbler/Million Dollar Dip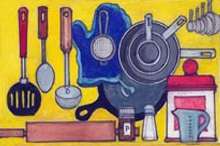 By Amy Larson
Pine Combs' Huckleberry Cobbler
INGREDIENTS:
1 ½ c. chopped rhubarb
1 3/4 c. huckleberries or other berries (optional)
1 3/4 c. sugar, divided
3 Tbsp. softened creamery butter
1 tsp. baking powder
1/4 tsp. salt
Pinch of cinnamon, nutmeg, and black pepper (optional)
1/2 c. milk or half and half
1/2 tsp. Mexican vanilla extract
1/2 tsp. pure almond extract
1 c. flour
1 Tbsp. cornstarch
2/3 c. boiling water
PREPARATION
Preheat oven to 375. In an 8" x 8" greased baking pan, put down a layer of chopped rhubarb, and then a layer of berries.
Combine butter, ¾ c. sugar, baking powder, salt, milk or half and half, cinnamon, nutmeg, black pepper, the two extracts, and flour in a bowl. If batter is too thick, add milk/half and half until desired texture. Pour mixture over fruit in baking pan.
In a separate bowl, combine 1 c. sugar with cornstarch. Sprinkle over ingredients in the baking pan. Carefully pour boiling water onto all ingredients in the pan, resisting the temptation to stir. After baking at 375 for 45 minutes, inhale deeply, then devour!
Note: If you're ever lucky enough to experience one of Wendi and John Combs' huckleberry cobblers, your life is basically complete. Adding to the deliciousness is the setting of the Combs' cabin, atop a bluff in Pine, overlooking the Anderson Ranch Reservoir.
Wendi and John will tell you that the generous deck built onto the back of their cabin (pictured at right) is actually the "front porch", because the front of their home is facing the view, not the road.
Welcoming friends and neighbors to their "Pine Paradise," with ample wildlife spottings and the stories to accompany them, there is no doubt while sitting on what I neutrally call the "front/back deck", surrounded by a flurry of hummingbirds, that some days, life can be very, very good.
S. Don't even attempt to ask where the local huckleberry source is. Around Pine, this sort of information is understandably kept top secret.
Mackay Million Dollar Dip
Ingredients
¾ c. (or more!) crumbled bacon
6 green onions, chopped
¾ c. Greek yogurt
¾ c. real mayonnaise
Dash of cayenne
PREPARATION
Combine, and watch this one magically disappear! Good with TownHouse ™ crackers, Triscuits ™, sturdy tortilla chips, veggies that hold up like carrots, celery, or cuke slices.
Note: I first discovered Mackay about fifteen years ago, when my sister Laurel wanted to take a sisters' trip there to look for land for a possible second home.
She and her husband, Lloyd Blackstone, opted to purchase a humble 1970s era house in town in lieu of new construction, and it's been the site of many a family get-together. Who knew a community so small could be such an attraction? The last of the true old West towns.
Thanks to the Blackstones, we've climbed to Lower Cedar Falls, spent time fishing at the reservoir, enjoyed Mackay's Free Barbeque (September 16 this year), taken multiple drives up into the hills, explored old mines, shopped the tiny Saturday market in the city park, and have gotten to know the friendly locals.
This dip is just the sort of thing to serve to hungry cousins at a Mackay family event.