In the Thrall of the Middle Fork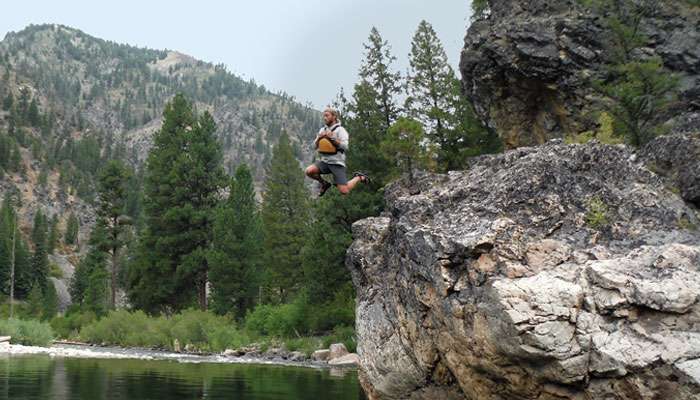 Bridge-Jumping, the Secret Service, and a Miner's Grave
By Michael Stubbs
Gravity
Christopher Cuhaciyan cannot let go of the railing. Twice, three times, four, he spreads his arms and legs in a firmly grounded jumping jack.
"Here I go! . . . Nope. Can't do it."
His hand and foot remain firmly on White Creek Bridge, thirty-five to forty feet above the dark waters of the Middle Fork of the Salmon River. The bridge is painted a light Forest Service-green, but rust is taking over the color at the bolts and joints, and hundreds of hikers and rafters have scratched their names into its history. Their dates and claims to glory are rust-red scars on the bridge's green skin. The bridge smells of creosote, and its heavy wooden planks are scuffed from the hooves of pack trains and horseback riders and countless backpackers.
My friends and I have been living on the river for four days (five if you count the first day of driving and camping near the headwaters at Boundary Creek). Four days of whitewater and wild river. Four days of winding down-canyon. Four days of forests. Four bears in four days. This bridge is an unusual relic of human industry in the Frank Church–River of No Return Wilderness. It is sturdy, but it's high. It shakes in the canyon winds.
Chris Smith has already jumped off the bridge once. He is preparing for a second time. He has exited the cold waters, shaken the drops from his ears, and hugged himself back to a moderate warmth. He stands below me, beside the cliff face on the path to the bridge. I pause to watch Christopher, and Jen Cuhaciyan holds my camera to capture her husband's leap.
"You don't have to do this," Jen says to him. "I won't tell our girls."