Into the Woods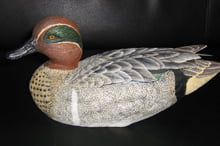 And out with a Woodcarving
By Doug Rose
Photos courtesy of Craig Plummer and Idaho Artistry in Wood Association
I guess you could call me a tree-hugger. One of the things I love about Idaho is that it has a lot of them. When I retired from the Foreign Service and moved to the City of Trees in 1993, one of the first things I did was plant more of them, mostly fruit trees. But I also got into the woods in a different way.
It started with a conversation I had with my wife when I was about to retire.
"What are you going to do with all your free time now?" she asked. "You need something to keep you busy so you don't get in my way in the house."
"Well, I plan to buy a fishing pole and I'd like to try growing a garden."
That answer didn't seem to satisfy her. "Don't you still have those woodcarving tools your parents gave you?"
"Probably," I said. "They must be around somewhere."
"Try them on this." She handed me a kit containing everything I would need to carve and paint a green-winged teal decoy.
Her strategy worked. My finished teal didn't look anything like the decoy we once had seen and admired at the Ward Museum of Wildfowl Carving in Maryland, across the Potomac River from where we lived before my retirement, but I enjoyed carving and painting the duck enough to want to try another one. So after we got to Idaho, I ordered a second decoy kit and went to work carving a black duck.
In Boise, I soon found there were other people around who loved to carve wood and some had the skills to do the kind of work we saw at the Ward Museum. A new friend, Boise State University art professor John Taye, who is a masterful carver, told me about the Idaho Woodcarvers Guild and their annual wood art show at the Boise Centre on the Grove. That opened a whole new world of woodworking for me. Before long, my wife was complaining that I spent too much time in my shop and at woodcarving events.
I entered a few of my carvings at the Novice Skill Level of the Idaho Woodcarvers Show and even won some ribbons. That was pretty exciting but I still wanted to learn how the pros made those lifelike birds out of wood. At one of the shows, I met Ted Smith, a world champion wildfowl carver from Nampa, who offered an intensive seminar that showed wannabe bird carvers how to research, design, cut out, shape, texture, and paint a floating decorative decoy. I signed up for his course and, thanks to his guidance, my next decoy looked a whole lot more like a real bird than my first efforts.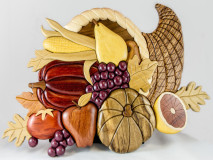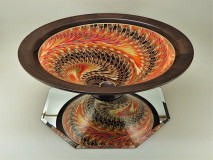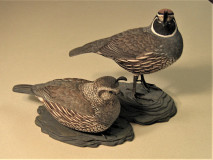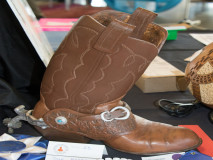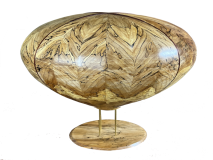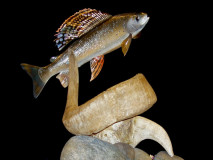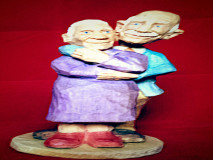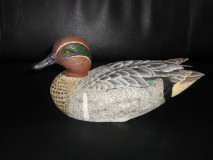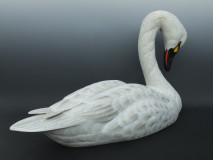 The Idaho show introduced me to a much wider world of artistry in wood. It had an amazing array of skilled craftsmanship in bowls, vases, and pens turned on lathes, scroll-saw work such as fretwork, intarsia and marquetry, and fine woodworking pieces ranging from ornate furniture and musical instruments to canoes and toys. There were also a lot of highly decorated gourds and pyrography (wood burning) pieces.
I was so impressed with the show that I volunteered to serve on the organizing committee. All the other members of the committee were masters of their art, some with national reputations. In addition to Ted Smith, the group included Vic Otto, Cleve Taylor and later Gene Fuller, who belonged to the elite twenty-five member Caricature Carvers of America, as well as Victor Haight, who has won top honors in the Ward National Fish Carving Championship. I was just a novice carver at the time but I had some experience in media relations, which led to a role as publicity chairman that has lasted, with only a few breaks, for more than twenty-five years.
By the year 2000, our annual competition and exhibition had become one of the top wood art shows in the Northwest. We were attracting up to six hundred carvings, scroll work, turnings, fine wood working, and gourd art. The carvings ranged from the first entries of beginners to exquisite work by professionals. But then things began to go downhill. Show participation and the number of entries began to fall. The reasons weren't fully clear but maybe it had something to do with the disappearance of woodshop classes in the schools and a decline in the production of custom wood products.
Key teachers of woodcarving at Boise State and secondary schools retired and weren't replaced. The age of members in our woodworking groups rose. It looked like the state just wasn't producing as many people who enjoyed using sharp tools. Public turnout for the show was also off. Costs for space at the Boise Centre on the Grove rose. In 2006 our organizing committee sadly called it quits. Our Woodcarvers Guild and the other clubs put on smaller scale events at places like the MK Nature Center and libraries but the opportunity to see a large, state-of-the-art exhibit of wood art in Idaho was gone.
For a while the future didn't look promising but then good things began to happen. A couple of guys I knew, Frank Werner and Tom Matus, who were outstanding decoy carvers, won grants from the National Endowment for the Arts to teach their traditional art form. A woodcraft store opened in the Treasure Valley and started giving classes to people who wanted to learn woodworking skills. It also offered the woodworking clubs free meeting space, so I started spending my Thursday nights there.
When the Idaho State Capitol was expanded and renovated, workers had to take out several historic trees, so a woodworking legislator, Max Black, arranged for the timber to be cut and kiln-dried. He then invited craftsmen in our woodworking groups to turn the trees into works of art for display in the capitol and around the state.
By 2009 my friend Gene Fuller, who was a retired BSU professor, and I had heard enough complaints from people who missed the Idaho Woodcarvers Show. We both had been on the show's organizing committee and we contacted the Treasure Valley Scrollers, Southwest Idaho Wood Turners, Ada County Woodworkers, and Idaho Gourd Society to see if they would support a new concept for the show in which all five organizations would become equal partners. We'd call it the Idaho Artistry in Wood Show.
We got an enthusiastic response and formed a show committee with representatives from the five groups. After the first show at Brown's Gallery, we established a new not-for-profit entity called the Idaho Artistry in Wood Association, to sponsor future shows at increasingly spacious and attractive venues. It was great to have a place where artists who work in wood could once again show their creations and see what others were doing.
It has been gratifying to watch how the show has grown back in the ensuing years into one of the largest of its kind in the western states region. It is one of the most comprehensive shows of its kind, including not only carving, scroll work, turning and fine woodworking, but pyrography and gourd art as well. Since moving to Jack's Urban Meeting Place (JUMP,) the show has attracted an annual attendance of nearly fifteen hundred to a display of up to five hundred works by artists from Idaho and other western states.
After the coronavirus put the show on hold for two years, it returned in 2022 with support from the Idaho Commission on the Arts, the Boise City Arts and History Department, business groups, the participating artists, and the public. Wood artistry has reclaimed a prominent place in the cultural life of Idaho and appears to have a promising future.
The 2023 Idaho Artistry in Wood Show will take place April 1 and 2 at JUMP. For more information visit https://idahoartistryinwood.org/