June 2021 Calendar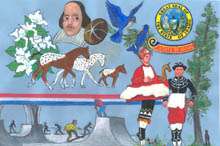 By Les Tanner
Cancellations or changes in these events may still occur because of concerns about COVID-19, as well as for other unforeseen reasons. Double-checking with event coordinators about the following locations, dates, and times is highly recommended.
Statewide
12 Idaho Free Fishing Day: This all-day event celebrates fishing in Idaho—and no fishing license is required. And if you've never been fishing, this is a great day to learn. Fish and Game personnel and volunteers will set up several free events at local fishing waters throughout the state to help first-timers discover the joys of fishing. There are a limited number of loaner rods and reels available to practice with but if you have your own equipment, you are encouraged to bring it. All other fishing rules and regulations including creel limits, opening dates, and tackle restrictions remain in effect. Always check the seasons and rules for the water where you plan to go fishing.
Northern Idaho
3 The Well~Read Evening Book Club: 6 – 7:30 PM at The Well Read Moose. New members are always welcome. Coeur d'Alene
5 Long Camp 5th Annual "Classics on the Clearwater", Kamiah
5-26 Long Camp Farmer's Market: SATURDAYS. Kamiah/Kooskia
5-26 Moscow Farmers Market: SATURDAYS. This event celebrates local farmers, artisans, and musicians by providing them with an opportunity to interact directly with the community and its visitors. This is a nicotine-free event. No vaping, tobacco chewing, or traditional smoking is permitted. 8 AM – 1 PM. Live Music, 9 AM – 12:30 PM. Main Street and Friendship Square, Moscow
9 The Well~Read Morning Book Club: 10 – 11:30 AM at The Well Read Moose. Coeur d'Alene
17 16th Annual Moscow Artwalk: ArtWalk gives local artists a chance to exhibit their work, and all ages are encouraged to explore this free citywide event! Maps of the walking tour will be available throughout downtown. Join local businesses in celebrating the visual, literary, performing and culinary arts of our community. 4 – 8 PM, downtown Moscow
18 Sandpoint ArtWalk: Opening receptions 5:30 – 8 PM on June 18. Local artists will be exhibiting their work at local galleries and retail locations throughout downtown. All ages are welcome to enjoy this free event. ArtWalk displays will continue through September 6. Sandpoint
19-20 Father's Day Weekend at Silverwood. Silverwood Theme Park, Athol
19-20 White Bird Days & Rodeo, White Bird
19-20 CVRA Annual Rodeo "Biggest Little Rodeo in Idaho": Kamiah
25 Baked Potato Bar Dinner Fundraiser, Coeur d'Alene
26 Craigmont June Picnic, Craigmont
26 Palouse Writers Festival, "Books & Brews": 5 – 8 PM, The 1912 Center, Moscow
TBD KOA "ISBA Bluegrass Super Jam," Kamiah
Southwestern Idaho
1-30 Summer Reading Program: "Tales & Tails". Participate in fun, animal-oriented activities, log your reading and earn prizes. All ages. Contact calwellpubliclibrary.org. Public Library, Caldwell
1-29 Farm to Fork Farmers' Market: TUESDAYS. Held in conjunction with the "Tuesdays
on the Creek" Concert Series. 5 – 8 PM, Indian Creek Plaza, Caldwell
1-29 Tuesdays on the Creek: TUESDAYS. Live music—folk, rock, funk and more. 6 – 9 PM, Indian Creek Plaza, Caldwell
1-30 MK Nature Center's StreamWalk Program: Wildlife educators instruct students about Idaho wildlife and the importance of habitat, coupled with a guided walk along the Nature Center path that follows our man-made stream. Cost: $2.00 per student, $2.00 per parent. Teachers free. Contact [email protected] for current details. Boise
3,17 ONLINE Trivia Night: For Singles, Couples or Pairs (that is, 1-2 people) With your spouse, friend, parent, partner or person of choice, join us for a laid back fun night of trivia via Zoom!: 7 – 8:30 PM. Public Library, Nampa
5 St. Jude's Trail Ride: Open to the Public. Hosted by Cowboy Campground at Legacy Park, Idaho City
5 WYS Pops Concert #2: 7:30 PM, Snake River Heritage Center, 2295 Paddock Ave., Weiser
5-6 Outpost Days: All kinds of Western fun happens at this annual event. Pancake breakfast both days. Lost arts demonstrations, plus Blacksmiths, Fur traders, Horny toad races, classic car show, Ft. Boise Garrison encampment and Silent and Live auctions. The museum will be fully open with free admission into the Murphy School House, AG Annex Building, Marsing Depot and Stamp Mill. Owyhee County Museum, Murphy
5-26 Schick-Ostolasa Farmstead Tour: SATURDAYS. The farmstead is the longest continuously inhabited home in Idaho, with seven historic farm buildings: the Farmhouse, a Detached Red Cookhouse and Spring House (called the Red House), Root Cellar, Woodshed, Saddle Shed, Granary, and a Horse Barn. 12:30 – 4:30 PM, 5006 W. Farm Court, Boise
7 BLOOM: This is a Reading Series featuring fiction writers, poets, playwrights, creative nonfiction writers, and podcasters who appear live on stage in IBG's Meditation Garden. Bring your picnic blanket, folding chair, food and drink of choice, and an ear for some amazing writers and creatives. IBG members $5, non-members, $10. 5:30 – 7:30 PM. Idaho Botanical Garden, Boise
7-30 Traveling Playground: Enjoy free, organized activities such as soccer, football, basketball, jump rope activities, volleyball, tag games & much more. The Traveling Playground will be at various Nampa Park locations. Check this schedule nampaparksandrecreation.org/277/Traveling-Playground, and then COME PLAY. Nampa
10 Thursday Afternoon Read: Virtual event at 2 PM. Ages 18+. Public Library, Caldwell
12 Caldwell Family Fun Day: Have fun in the sun on Free Fishing Day! Loads of activities, several contests, balloon critters, and raffle prizes too! Besides being outdoors, we will have other COVID precautions in place so that everyone can have the best day! 9 AM – Noon, Whittenberger Park, Caldwell
20-26 National Oldtime Fiddler's Contest and Festival: Weiser High School, 690 W Indianhead Rd, Weiser
25-26 Gold Dust Rodeo: Idaho City
Southern Idaho
4-5 Lincoln County Historical Society Fundraiser Yard Sale: All Items are sold by donation and funds raised help with the operations and projects for the Lincoln County Historical Society and Museum. 8 AM – 5 PM, Shoshone
4-25 Crossroads Farmers Market: FRIDAYS. 3 – 7 PM, Shoshone
12 Outlaw Day: Parade Theme is "Remember When…" Richfield
24 Boat Show & Shine: Idaho Regatta racers encouraged & invited to show off their boats 6 – 8:30 PM, The Square, Rupert
25 Idaho Regatta Boat Parade: 9:30 – 11:00 AM, Burley
26-27 Idaho Regatta Races: 9:50 AM: National Anthem, 10:05 AM – 6 PM, Qualifying heats
Heat races, Swim Breaks. Flatbottom Grand Prix Shootout Saturday and heat finals.
Heat finals. Awards Ceremony/Banquet Sunday after the conclusion of racing.
Contact: [email protected] Location, Race site, Burley
26 9th Annual Live Butterfly Release Memorial Event: 11 AM, Orton Botanical Gardens, Twin Falls
Central Idaho
5 Challis Classy Chassis' annual Show N' Shine car show: 10 AM – 4 PM, at the intersection of U.S. Highway 93 and Main Street, Challis
18-19 Idaho's Wildest Rodeo: 75th Annual Rodeo. Rodeo, Live Music, Parade, Vendors. Mackay Rodeo Grounds, Mackay
26 Broncs & Bulls: The Spank Martiny Memorial Broncs & Bulls event celebrates the life of Spank Martiny, a renowned bull rider and hometown favorite. 7 – 11 PM, North Custer Rodeo Grounds, Challis
Eastern Idaho
1-30 Butterfly Haven: Idaho's largest butterfly house. Enjoy a visit among Idaho and other American butterflies supported by their host and nectar plants. Listen to the murmur of the waterfall and the song of the canaries. Hours: 11 AM to 4 PM, Monday through Sunday. thebutterflyhaven.com, 1462 W 200 S, Pingree
5 Free Day at the Zoo. All day. Zoo Idaho, Pocatello
5 Gate City Brewfest.1 – 6 PM, Old Town Pocatello
19 Pizza's Run Car Show: This is the 23rd annual Pizza's Run show. Tons of raffle prizes, live DJ, great food, and activities for the kids. Free for participants and spectators. Over 50 awards will be given out. Come join us for one of the funnest car shows in Idaho. Registration:
8 – 11 AM. Show: 11 AM – 4 PM. City Park, Soda Springs
19 Summer 2021 Used Book/Flash Sale: 10 – 2 PM, Marshall Public Library, Pocatello
20 Father's Day at the Zoo: All day. Zoo Idaho, Pocatello
26 Downtown Days Art Fest: 9 AM – 4 PM, Old Town Pocatello
26 Pebble Creek's annual Music & Wildflower Festival: 2 – 9 PM, Pebble Creek Ski Area, Inkom