Laughter and Forgetting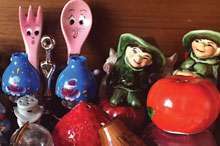 The Challenge of Alzheimer's
By Lorie Palmer Russell
Photos courtesy of Lorie Palmer Russell.
"I don't know how I got these bruises."
My eighty-one-year-old mother, Estella Arlene Faurot Palmer, showed me her tiny arm.
"Do you remember you were in the hospital with pneumonia?" I said. "Those are from the IVs."
A few moments went by.
"For the life of me I cannot figure out these bruises."
She looked quizzically at me.
"Do you remember the hospital?" I repeated. "They're from IVs."
About three minutes passed.
"I cannot figure out why I have these bruises."
She looked worried, so I said gently, "Mom. The hospital?"
"Oh, you told me that. They poked me." She sighed.
My dad died in 2006 and, looking back, it wasn't too many years afterward that Mom's memory began to slip. It was little things at first, such as overfeeding the cats or not paying the phone bill. When things became a little more serious, I found she had not paid her property taxes for three years (although the bills were paper-clipped together and nicely stored away) and she began to obsess about people taking her things: her curlers, her purse, the toilet paper.