Leather Man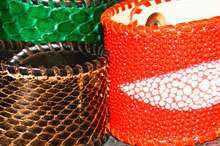 A Fashion Star in the Corner House
By Jennifer M. Fulford
A few summers ago, I rented an SUV and made arrangements to spend five days in Idaho on a work assignment. The second-to-last stop on my trip would be with Jerry Van Amburg, and after a couple of enthusiastic calls between us, I got the niggling feeling that his story would make the whole trip.
I had learned about Van Amburg while reporting for a leather trade journal. Artisans up and down the West Coast from my base in Portland often mentioned him, chuckling the while and asking, "Have you met him in person?"
He was described to me as a Tasmanian devil of a man, a bohemian, a Dennis Hopper-style, Type A personality, so full of energy and outlandishness that those who mentioned his name either raised an eyebrow, grinned, or shook their heads. For me, the hook was that he traded in exotic leathers—croc, shark, giraffe, and more.
I think even before he relocated to Blackfoot from Los Angeles almost a decade ago, he must have appreciated Idaho's vastness. His personality needed room. There are no roller coasters in Blackfoot, but Jerry Van Amburg is his own ride. Three hours after I arrived at his vortex, I left dizzy from his stories and enthusiasm. Whenever he slowed down, he offered wisdom about exotic leathers and life lessons.