Lettuce Wrap/Pork Chop Chili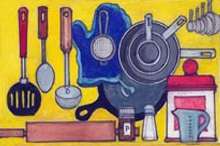 By Amy Story Larson
Asian Lettuce Wraps
INGREDIENTS
4 boneless, skinless chicken breasts
2 Tbs oil
1/4 cup chopped yellow onion
2 cloves garlic, chopped
2 Tbs soy sauce
1/2 cup teriyaki sauce
2 Tbs sweet red chili sauce
2 Tbs toasted sesame seeds
1/4 green onion, chopped
2 heads of romaine lettuce
PREPARATION
> Poach (boil) the chicken breasts for 20 minutes. Dice chicken and set aside. Sauté yellow onion and garlic in oil for 3 to 4 minutes then add diced chicken. Add soy sauce, teriyaki sauce, and sweet red chili sauce and simmer for 10 minutes on medium heat.
> Rinse romaine lettuce and cut into large wedges. Add sesame seeds and green onions to mix and serve in bowl with a side of noodles or crunchy chow mein noodles that can be added when building wraps.
Pork Chop Chili
INGREDIENTS
2 lbs of center-cut pork chops
1/4 cup chili powder
2 medium onions
3 oz garlic
1 can tomato sauce (29 oz)
4 medium red potatoes
2 cans of peas
1 cup salsa
1 tsp black pepper
1 tsp white pepper
1 tsp celery salt
1/2 tsp cumin
PREPARATION
> Dice meat into bite-sized chunks; dice onions and potatoes. Mix those ingredients with the seasonings and sauté until meat is tender and potatoes are cooked. Then add tomato sauce and salsa. Simmer for 30 minutes. Drain canned peas and add them in. Simmer for 5 minutes. Let dish rest for 15 minutes and serve.
Note: Both these recipes are extracted from my 2015 book, Appetite for Idaho.