Magic Salad/Chip S'mores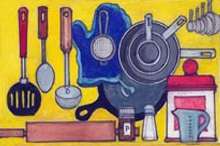 By Amy Story Larson
Magic Salad
INGREDIENTS
2 large tomatoes, diced
1 can black beans
1 can sweet corn
1 small purple onion, diced
1 cucumber, diced
1 6-oz container feta cheese
1 tsp. minced garlic
1/2 c. red wine vinegar
1/3 tsp. powdered garlic
1/4 tsp. onion powder (optional)
Salt and pepper to taste
PREPARATION
> Combine all ingredients but the feta in a large bowl. Sprinkle feta on top when ready to serve.
NOTE: A fairly guilt-free overeat, but rest assured, it will be one. I've made two batches since discovering this, and ate it all without so much as a thought to share. Not sorry.
Wavy Chip S'mores
INGREDIENTS
1 bag wavy potato chips
1 bag marshmallows
1 or more large Hershey™ milk chocolate bars OR a jar of Nutella™ (or both!)
PREPARATION
> Make s'mores as usual, top with either a piece of chocolate or a smear of Nutella™.
> Place between two sturdy chips.
Disclaimer: When your family is expecting a grandson that is to be named Telemachus Sackett Story, ("Tel" Story), you make sure mama is happily satisfied in the craving department. By the way, I am not willing to be responsible for this delectable invention…I only wish I'd heard of it far sooner.