Menagerie Man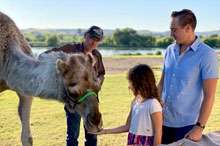 Not Your Normal Neighbor
Story and photos by Gary Brown
Is it the alligator or maybe the multiple pythons hanging around that cause me to put my neighbor Corbin Maxey and his wife Sam at the top of my list of our most interesting neighbors over the years? Maybe it's neither. Perhaps the emu or African tortoise is to blame.
My wife Kathy and I share a common property line with the younger Maxey family out in Marsing along the Snake River. Just the other day, my granddaughter and I had fun peeking through fence slats as NBC's Today Show filmed a segment in their backyard that included lizards, a camel, and a wallaby. Solange, my granddaughter, said her favorite part was during the post-show, when she got to kiss Clyde the camel, who has become quite popular in this part of Idaho. Clyde, being a guest and not a resident of the Maxey household, was of course on his best behavior.
Snakes have always made me squeamish. Yeah, I know, there are snakes that can be good to have near the house, in that they keep mice and voles in their place. Maybe it's the whole biblical Garden of Eden thing that makes me a bit wary. That reminds me: Kingston the giant teju may have been Solange's favorite. She even took the huge South American lizard for a walk around our flower beds.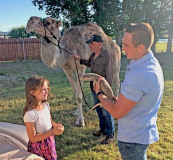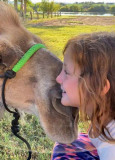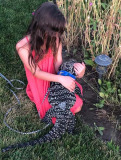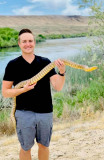 That alligator? Well, it's the same one that appeared on the The Tonight Show with Jay Leno with Corbin when he was only twelve. Corbin recently passed the thirty-year-old mark and by now, Chompers is huge! That thing is so big, he'll soon have a new home tank of more than a thousand square feet, just for himself. All these creatures make Corbin's energetic dog, Zoey, seem quite mild in comparison. Zoey's fun to pet but I have to say, I prefer my almost daily routine during the summer months of feeding Hank the African tortoise a ration of strawberry tops.
The Maxeys must have better internet and phone service than we do. What else would explain why he's the one recognized as an international expert in his field who receives requests for help from throughout the world? While his particular passion is reptiles, it's evident that his knowledge of animals goes well beyond just our reptilian friends. His compassion extends to the rescue of creatures in danger, no matter the species. He has even gotten me interested in muskrats and occasional beavers that inhabit the Snake River that flows in our backyard. A year ago this past winter, when for the first time I saw ice flows on the Snake, he videotaped a bald eagle darting above the water.
Corbin is a native Idahoan who started very young chasing reptiles in the Boise Mountains around Robie Creek. He even set up a nonprofit reptile reserve as a preteen. Sam hails from Michigan. Never wanting to abandon the sense of adventure that seems to inhabit those of us living in Idaho, they have started an entirely new enterprise: wine tours on the Snake River. It's great to have neighbors that bring more than the ordinary to life along the river in Owyhee County.