Miss Idaho and I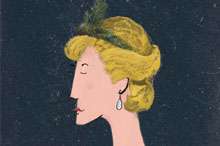 A Small-Town Girl in the Big Pageant
By Loris Addington
When the principal, Mr. Sayer, gave me a chore to do one day in the spring of 1955 at Council High School, I offered a smile and what I thought was a snappy salute before trotting off to do his bidding.
Apparently, this breezy attitude caught the eye of the photographer who came to the school every year to take our pictures, because he said, "The Miss Idaho Pageant could use a little spicing up this year. Do you suppose that young lady would like to be a participant?"
"I don't know, but I'll ask her," Mr. Sayer replied. When I returned from my task, he said, "Loris, come here a minute."
Thus began my experience as a Miss Idaho contestant.