Mouths Big and Small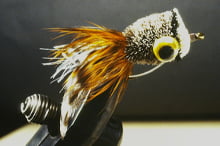 Bass Fishing in Idaho
By Gary Oberbillig
Grandfather Simpson always told me, "Fish where the fast water meets the slow," which is a pretty good description of a current seam in a river that funnels all manner of bugs to the waiting trout. Good advice still, whether along a promising stream or in the slipstream of life. The nexus of fast and slow, that reliable sweet spot in our endeavors, is just waiting to be probed with a dry fly or a question.
My grandfather, with all his Scots-Irish caution, also said, "Never tell anyone where you go fishing," but I've used a different ploy to conceal my favorite fishing holes. If asked, I will tell the absolute truth but in such exhaustive detail that soon my listener's eyes glaze over and the droning stream of my narration erases any memory of secret locations from their overwrought minds. I lovingly discuss water temperatures, stream flow data, and other esoteric, unspecific fishing lore. Canny obfuscation is an art to be cultivated.
When I was growing up along Idaho's Snake River in the 1950s, we fished the sloughs and backwaters for largemouth bass with bait-casting gear and alluring wobbly plugs but it was a rare day when I caught more than one or two. I've read that the bass were planted in the Boise River as early as 1892 and I'd heard that Grandfather fished for them in the water-hazard pools of Plantation Golf Course in Boise during the 1920s and '30s, with considerable success.
The sloughs were our hunting grounds for the three Bs: bullfrogs, bullheads and bass, which were the catchable table fare most acceptable in our family.