Potato Soup/Lee Cake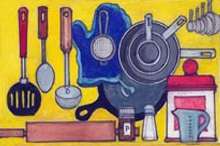 By Amy Larson
Rex's Potato and Ham Soup
Contributed by Coralie Mattox
INGREDIENTS
1 large onion, finely chopped
1 tsp. onion powder
2 ½ Tbsp. butter
2 tsp. garlic powder
1 ½ Tbsp. ham soup base*
7 c. water
1 ½ tsp. Worcestershire sauce
2 c. cold water
4-5 c. ham, cubed
1 c. corn starch
1 c. grated carrots
2 to 2 ½ c. sour cream
6 medium potatoes (about 5 cups), diced
½ tsp. pepper
1 tsp. garlic salt
PREPARATION
Dice potatoes and cook in microwave until tender, about 20 minutes. Saute onion, soup base, butter, Worcestershire sauce, carrots and ham. Add 7 c. water, potatoes, garlic powder, garlic salt, and onion powder. Bring to a boil. Cook until carrots are soft.
In a separate bowl, mix 2 c. cold water with cornstarch. Turn heat down and stir in mixture, continuing to stir for 3-4 minutes until thick. Add sour cream and stir until the soup turns a creamy white, then add in pepper to taste.
*If ham soup base isn't to be found, add extra Worcestershire.
Note: Seems like the perfect time for heartier soups, as people all around Idaho are focused on the harvest.
Lee Cake
Contributed by Jared Story
INGREDIENTS
1 package chocolate cake mix
1 jar butterscotch or caramel ice cream topping, about 19 ounces
1 package Heath™ bar chips
1 carton whipped topping, thawed, 8 ounces
PREPARATION
Prepare and bake cake according to instructions on package, using a greased 9" x 13" cake pan. Allow to cool for 10 minutes. Using a wooden spoon handle, poke about 20 holes into the cake, pushing the spoon almost to the bottom of the pan.
Pour the ice cream topping in all the holes of the cake, refilling holes as needed. Spread remainder on top. Let cool, then spread whipped topping on cooled cake. Sprinkle liberally with Heath bar chips.
Refrigerate for at least two hours before serving, and be sure to keep remaining cake refrigerated.
Note: This recipe is named after the man who passed the recipe on to Jared Story, who claims this to be one of his "all-time favorite" cakes.
This recipe page is brought to you by THE IDAHO DAIRY COUNCIL